It's 2am in Crouch, Idaho at a bar called "The Dirty Shame" and the DJ fuels a packed house feverishly dancing the new finish off the dancefloor. There is no cell phone service and no strangers in this place. Tonight, they are throwing it back and welcoming old and new friends as family at one of the largest parties Crouch, Idaho sees all year. Earlier that day, however, 102 of these carousers competed in one of the most extreme kayaking races in the world while an audience of 2,000+ spectators eagerly watched. In traditional slalom races, kayakers are judged on their speed working around certain pre-set gates. Unlike these races, there is no guarantee at The North Fork Championship that its contestants will even make it to said gates. The main event's class 5+ high water section of the Payette River called Jacob's Ladder and The Golf Course hosts rapids with names like "Rodeo Hole" and "Rock Drop," where even extremely talented kayakers are pushed to make highly technical quick moves to hit the 7 gates without getting blown out or missing them all together. 
Set in rural and rugged southwest Idaho, this extremely high water section of the Payette River sits in Banks, Idaho (population 17) just 35 miles north of Boise. The two main rapids comprising the Championship's main event, Jacobs Ladder and The Golf Course, span 3/4 of a mile of icy fast booming white water fueled by dam released spring snowmelt. Using a chip timing system, typically reserved for marathon events, this event innovated and engineered the use of a high-line timing strip above the rapid instead of underfoot. Because the race comes down to 10's to 100th's of a second, the race organizers wanted to remove the potential for human error.  In 2016, the main event brought 30 of the world's most talented competitive kayakers to show what white water kayakers are capable of in a course unlike any other before it. It's the difficulty of whitewater itself that makes this event special. The way gates are set intends to push a rare tier of athletes to demonstrate moves and technique they wouldn't necessarily otherwise.
In the last five years, the North Fork Championship has become an internationally esteemed event watermarking the upper echelon of extreme kayaking. But before it drew the attention of the international kayaking world, it drew the minds of two diligent dreamers. James and Regan Byrd have been organizing, energizing and coordinating the NFC since James shared his dream on their second date. Since then the couple has build the NFC from the ground up, beginning with notes scribbled on napkins, welding the winner's crown in the garage and hand drawing the event logo. From napkin notes to world class talent, Regan and James' grassroots dream has taught them both about dreaming big, patience, persistence and being bold. After grinding hundreds of hours into reality, Regan reminds herself and us of the importance of staying calm, staying stoked and staying in the moment. From her wrist to her elbow, an inked forearm reads, "The perfect present of the present tense" etched in tattooed cursive. Presently, Regan and James are preparing for next year's followup in NFC VI. Tucked deep in planning mode in the tiny town of White Salmon, Washington, we were lucky enough to track Regan down for an exclusive insight into her experience with the event. Below, Regan shares a little bit about those early days and what it means to stay rooted despite the rapping of surprises at your door; how to follow your line and meet the river with a steady  mind. 
How did you come up with the idea for The North Fork Championship (NFC)?
When I met my husband, James, he had recently had shoulder surgery, which sidelined him from the sport. He told me on our second date about this idea he had. It was his brainchild. I had been exposed to whitewater community but I didn't kayak myself at that time. James had been kayaking since he was 9, moved to Boise for the North Fork after graduating from college, and fell in love with that area.  He wanted to show kayaking at a level that he thought kayaking deserved: on point with big mountain skiing, downhill mountain biking, cross country paragliding . . . All these things that are getting this energy.  And in kayaking people are doing incredible things, great athletes are training and doing new things. And he wanted people to see that. 
The project immediately got so big that I began to help with organization by creating folders, spreadsheets- because before then it was on napkins, post-its, and scrap paper. I started going to meetings with him. We started to represent it as a team.
I had fallen in love with the whitewater community and I knew that they were good people so I really believed that bringing them to these peoples community would be a good thing.
Did you experience any initial resistance to the idea?
I think a race course like this had not been done before (on a rapid like this). I think that the people who live there and don't play on the river see the river and the highway differently. For example, when they respond, it's for a fatality. Accidents where people survive don't necessarily happen. I wouldn't say it was resistance but a good challenge to make sure we were gonna do it properly.
How did you make sure it was safe and done properly?
We do have insurance and abide by each permit requirement. Each year, new things come up like "What paddlers will come? How do you know that they are good enough paddlers?" The kayaking community is small enough and if no one knows who someone is, someone will spend some time with you and paddle with you to see if you're fit to be on the North Fork.
      Left: Regan addresses a crowd gathering at NFC; Right: Regan and James Byrd enjoying a brief moment of relaxation at their event. 
How did you start the process?
It was 100% trial by fire! Things were still coming together 30 days before the first event!
We would try to do something, call and office and they would ask, "Do you have this permit?" "Well, no-" Sometimes people were supportive but you had to ask the how portion. People weren't offering up information or help. They weren't saying, "Well you don't have this permit so you need to go to this office . . . " We had to ask, "Okay, well how do I get that permit?" They reply, "Well I don't know, try here . . . " Everybody has their own agenda so no one has time to baby through your own. 
What were some of the obvious challenges?
Our goal was to bring people from all over the world.  How do we convince these people that this is an event worth coming to, especially in its first year since we cant pay for all of their airfare. Additionally, important was the question of raising money to make it fiscally responsible. Also, how do we keep it safe? What permits do we need? Is this even legal? Will people want to do this? Is it too scary?
How did you address these challenges?
The Payette is already a known river. The hype was already there. It did give people an excuse to come out a little early and paddle the river and then also part of selling point, like, hey, if you make your trip longer, there are a bunch of other places in Idaho you can go. Idaho is beautiful. The unofficial state name is The Whitewater State. It's got more miles of whitewater than any other sate and tons of kayaking. It turns out it didn't take a ton of convincing. That was more a of a barrier in our head. People wanted to show up and paddle rivers.
Regarding fundraising, we didn't do fundraising events. Our goal has always been to involve all of the kayaking companies, so we have definitely spent a lot of time trying to personalize emails to different people ands see what we got back. We started with kayaking companies and we also started with Red Bull to see if it was something they wanted to do because they sponsor kayakers but never a big kayaking race. We wanted to see if it was something they were even interested in. They were one of the first sponsors outside of paddling community. Otherwise, we had support from the beginning from companies like Sweet Protection, NRS, local paddling shops, and a local brewery too.
So you just asked?! 
Yeah, we just started the conversation. Secondary to asking, we crated a proposal. Now it's opposite. We have proposal ready when we ask but there was a learning curve. If they were resistant at first, we didn't necessarily take "no" for an answer. Now sponsors and our relationships with them have become a really special part of the event.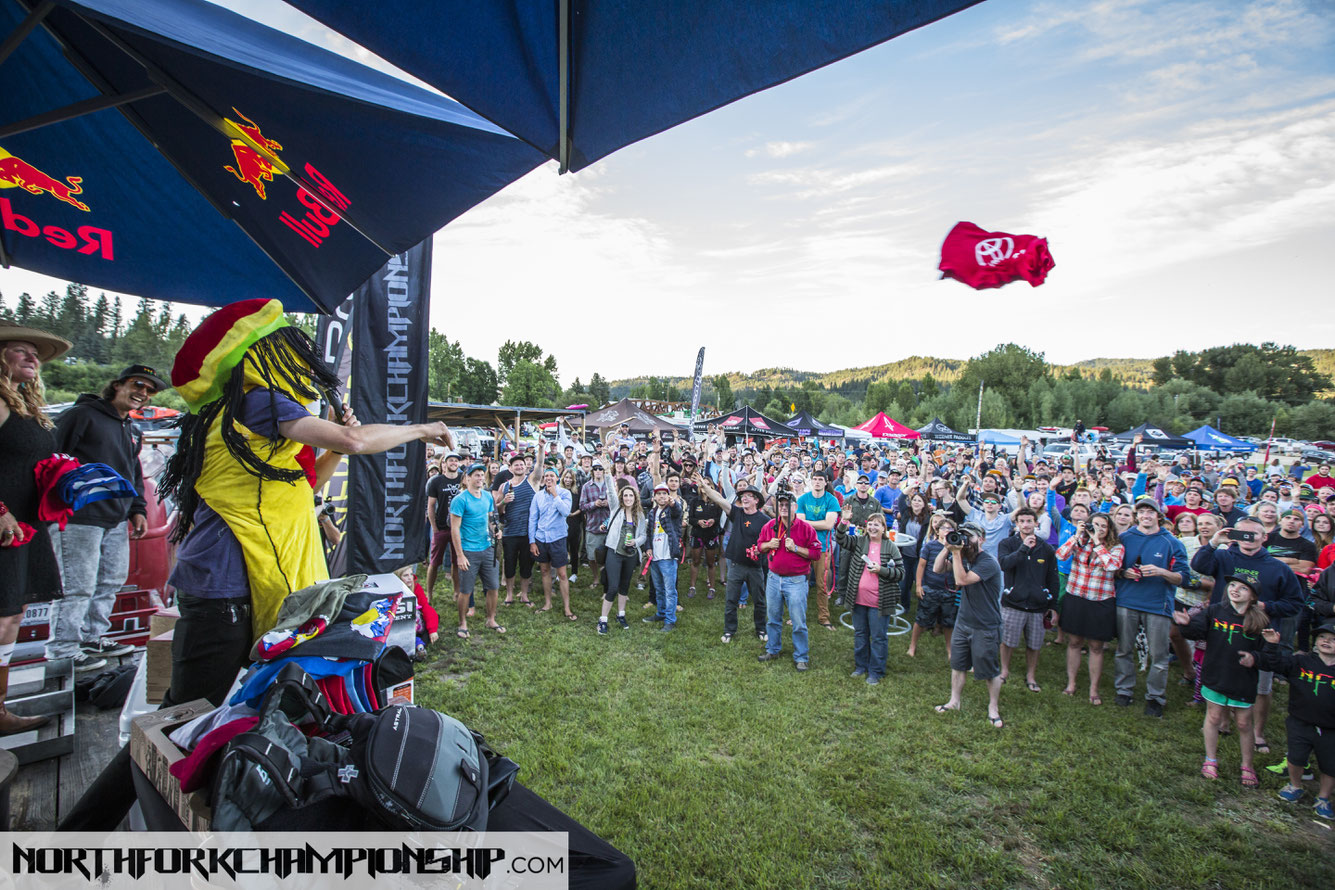 What were some of the hidden challenges?
For the first three years, it was permits. Two races of the NFC occur in one county and another in a different county,  so we have to double all of our permits.  Otherwise, it was the need for manpower. Looking back its now funny to think that James and I thought we could pull it off just ourselves with a little bit of help during event. That's still a part of the learning process in figuring out how many people we need to make this fun for everybody.
How did you overcome these challenges?
I can't say enough about the kayaking community in general and how much they helped. It may sound cheesy but it is a family. People can see when you need something done and they trot over and say "How can I help?"  When it came to setting things up, it was trial by fire. For example, how do we string lines across the river? It was on the opposite of the river as the road so using a truck wasn't an option. The first year, we tried to paddle the string across the river upstream and then walk it down the river with someone on each bank- horrible idea! So instead of setting gates in one, day it took, like, three. People are totally worked afterward. Now, we use a fishing pole, cast it across and tie off the line. It goes from finishing line to rope, to cable.  It's a process that's taken work. Every year we have the conversation about how we can make this better and easier. That was a huge challenge.
One year there was a huge log in the river, sitting at an angle that was  avoidable but if you weren't able to and you got into a situation and couldn't' avoid it, it would be really gnarly. So we had to take that out or maybe move the race to another rapid. The community rallied. One of the paddlers from France is an arborist. He helped a lot. People were doing crazy shit, paddling out into the river to the log, getting out, getting on the log, rapping a rope around the log and then chainsawing the log into pieces so it would flow down the river. That was a three day or four day ordeal we weren't expecting. One of the guys that was helping actually got a piece of wood jammed between his fingers. And he wasn't gonna race but did and he ended up winning. It was a great story!
At what point did you realize this is gonna work?
It's funny to compare it to a wedding but it's similar in that you spend a lot of time planning it and once the day starts, it starts. And you think, Well, the ball is rolling. We are doing it. People are here. People are fired up; people are racing; there's stoke. There are people from all over the world. We are meeting new people. Friends who haven't seen each other are seeing one another. One of the local badasses won it one year and the energy when he won was just insane. That was a big moment, not just because he won, but because people were excited and the energy built itself. It's still definitely grass roots but it started even more grassroots.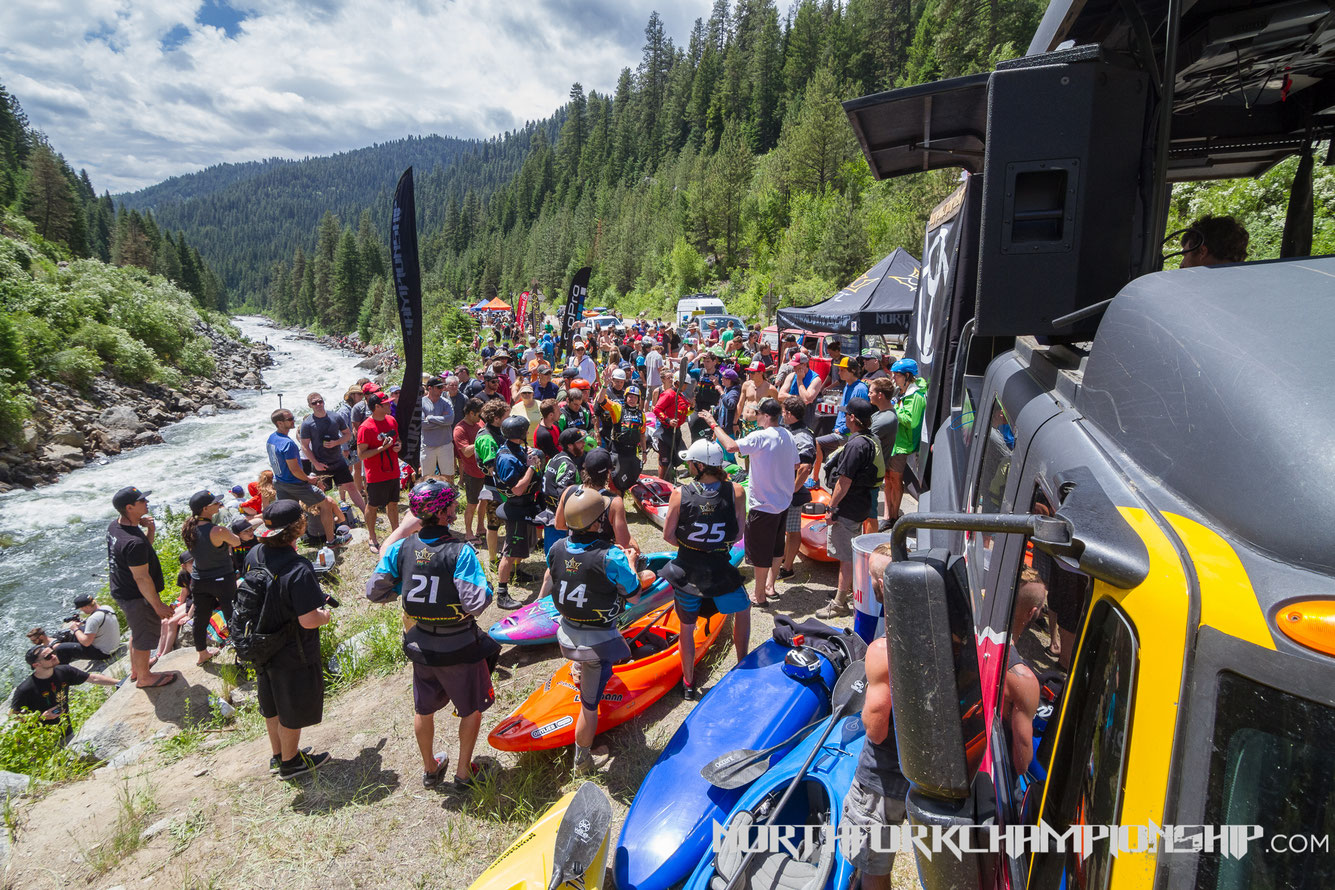 What hacks did you learn?
It's all trial by fire. Unless you have done it before or have a contact who has done it before, then I think you have to just try and see if it works. 
There were other events that had happened and people from those events were offering to help but we had a specific idea of what we wanted and so I think it's important to be protective of that. Make sure it goes the way you want. Even if someone thinks you should do it a different way, but you believe in something different, do it the way you think it will work. If it doesn't work, at least you tried. That is something that was hard at times but ended up working out for us.
Also, it might sound cheesy, but hard work and time! We have put a lot of both into but it has paid off.  You might get frustrated with the work you are putting into it but once you see the return, it makes it worth it.
We joke, sleep when you're dead.
What do you wish someone had told you or that you had known beforehand?
That it's going to work, but you're going to need a ton of people and a ton of money. I don't think we ever lost hope that it would work but just hearing that support that it will. . . In terms of instruction- hard to say- at this point we have done it a few times and learned a lot the hard way and now it feels like it was all part of process. So there's nothing that I wish we had done differently. Now its just all part of its story.
What piece of advice would you give someone who is starting a similar project or organizing a big race event?
The importance of organization from the start. Write stuff down and figure out how you're going to stay organized. At least have an idea. Folders. If you're doing it in such a way that money is going to be made, are you gonna have an LLC or a non-profit? Financially, that's something you will have to deal with in the future, so easier to deal with it at that moment then later thinking, "Shit, where did I put that receipt?"
Secondly, don't out-leverage yourself. If you have an idea and a place you want it to grow: keep it within reason and keep it fun for yourself.
What technical resources did you use (books, articles, resource guides, etc.)? 
I google everything (chuckle). If you get a hit, then you get a hit and if not at least you tried. Also, past experiences. James grew up near big fork Montana. They have had a kayaking festival around for 50 years and when he was old enough, he competed in it so he grew up experiencing a big white water festivals. I grew up doing a competition sport, so I saw what it took- i.e. entry fees, etc. We had both done it before and drew from past experiences: I remember doing this, so let's try that.  
If you had to attribute success to one thing, what would it be?
The energy in the international kayaking community.That's not something we had to create. There was nothing we could have done to create that.The first year we created a teezer for the event and there was already stoke and it hadn't even happened yet. People were like, "Oh my god. . . This is gonna be sick." When you have that kind of reaction, it totally fuels your fire. When your fire starts to burn out, and people around you are exited you think, "Okay, (single enthusiastic clap) we can do this!"
What piece of advice would you go back and give yourself on day one of this project?
'Be patient with it. Let the process be.' There are gonna be roadblocks and it's important to learn how to adapt.
Can you name a piece of consumable media you recommend people starting a similar project?
It's really more important to follow your heart and believe in your dreams. It's like your mom telling you that you're beautiful: you hear that so much  and maybe it's over used but it's because it's true and it's hard to let yourself believe that that's all you need.
How do you make yourself believe that believing in yourself is all you need?
Some people are lucky enough to have resilience as a personality trait and more likely to brush off failures. In some cases it's the support you feel from people around you. It's a mixture of those things for the North Fork.
If you had to provide a private motto for this project, what would it be?
Work hard and play hard! The stoke and spirt of kayaking is to live without fear. To push yourself and follow your dreams. Do the things that people think are impossible. We know already that we only live once, so why not . . . ? The hard work we put into it- It's part of the gift we get-  to party and spend high energy quality time with people that you just love. 
Name one thing you have had to give up on or lesson in order to be successful with the NFC?
Our own free time. We spend it planning- Making phone calls when other friends were out doing things that we would, in theory, prefer to be doing. James has had a full time job and I have been in nursing school. In the winter season and spring season, it's a full time job for both of us. It's a lot of time and work but if it brings more than it takes away, then it's worth it. 
We also miss time shredding. 
What does "shredding" mean to you? Explain shred theory:
To shred would be . . to go out and spend your time exactly the way you want to. It's often used to explain physical activity but it doesn't have to be. It's quality time doing exactly what you want to be doing.
Where did you grow up and what about your upbringing helped you in this project?
I grew up on acreage in Southwest Idaho and our family had horses. At some points we had cows but not for ranching purposes.  I grew up Rodeoing in SW Idaho…. Rodeoing in that part of Idaho is like wild west entertainment (laugh). It's competitive sport with horses. A lot of people think of rodeoing and think bull riding but there is much more to it. It's like soccer or basketball, you can start when you are teeny tiny . . . We grew up doing rodeo the same way you would youth basketball but with a lot more gear. I was lucky enough to be good at it from a young age. That success yielded more love for it.  Not to give the impression that you have to have success at something in order to love it. [My] sport was barrel racing and breakaway roping-
What is breakaway roping?
Basically I rope a cow around the neck but when the horse stops, the cow keeps running and the rope just breaks off. It's a really fast event, so it's all about timing and speed and there tons of variables and just perfecting those tiny things where you can cut off time and be faster. I fell in love with the competition and later with my animals. I was lucky to have such good animals. When I started to realize how special my relationship was with my animals, it grew my passion for it.
Did any of this help you?
I think I saw a lot of people traveling, competing and going to other places to compete. It helped when thinking about things like registration, entry fees and structure of these events. What kind of costs are associated with the event? One of the things I really liked about rodeo is sometimes you would go to rodeo and there was what there would be a hospitality tent where you could get free food or drinks. That always felt like a special treat. Those were the kinds of things I wanted to bring [to the NFC]. There's a level of responsibility for the competitors but there is just some level of respect for the competitors, starting on time, for example. I like leisure days as  much as anyone else but on these occasions it's important to have a timeline and stick to it. Also, seeing competition. The rodeo community has a similar community vibe in terms of being a small enough community that you see these people regularly and feeling like a family.
How can people learn more about The North Fork Championship?
They can go to the website to see updates, videos, featured paddlers and events. http://northforkchampionship.com/
---
Instagram: @northforkchampionship
---