2174 AD. Five years ago, a shipwrecked cosmonaut from the exploratory mission, Novy Mir, documented the flora of an unknown planet in quadrant NQ3 while waiting for a rescue team. Her notes and sketches were found inside a charred capsule adrift in the Arctic Ocean. The scientific community, awed by what she discovered, has been attempting to decode her jumbled words and complex diagrams ever since. The cosmonaut's archive took on many forms; it appears she used whatever materials had survived the crash. Reconstruction is ongoing in laboratories worldwide.
                                                                                                      -Excerpt from Zoetica Ebb's multimedia project, Alien Botany 
     Science presumes there is life on other planets. While speculations are made about molecular content and biosignatures that may exist, most of us could not imagine what it would look like; but Zoetica Ebb has. Her project, Alien Botany, is just that. Zoetica has created an entire hypothetical world in her mind and through her art. Alien Botany is a multimedia project of epic proportions and immaculate detail. It features "specimens of otherworldly plant-animal hybrids and their potential interactions with human hosts", which "examine various mediums, from traditional illustration to sculpture and design."
What Zoetica has done is imagine not just a fantasy world, but the entire ecosystem that comprises it, her drawings' detail paralleling the precision of biology textbooks.
Alien Botany presents as a convergence of scholarship and abstraction. It is an academic compulsion to rouse the art out of science and then depict what emerges when our minds are not constrained by the empirical requirements of that science. Perhaps it is a marriage between what we think we know to be and what could be; a futuristic interplanetary botanical ecosystem comprised of many art forms. Iterations of the project have even include wearable art – Zoetica's drawings have become intricate textile designs for a series of sold-out leggings, scarves, and bodycon dresses scrolled with surreal, shape-enhancing tentacles and tendrils.

She tells us that "this project is a consequence of a lifetime of experiences and passions, conceived in 2011 as the intersection of Soviet space obsession, love of the compulsive detail in traditional scientific illustration, and fascination with the beauty and horror of the natural world."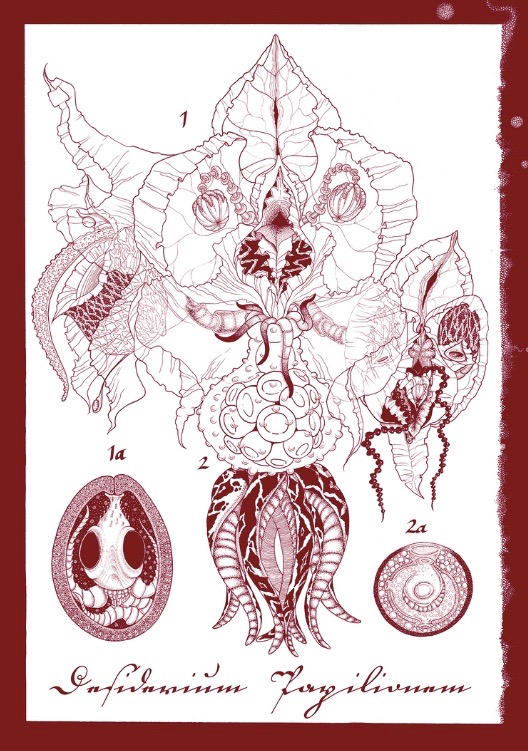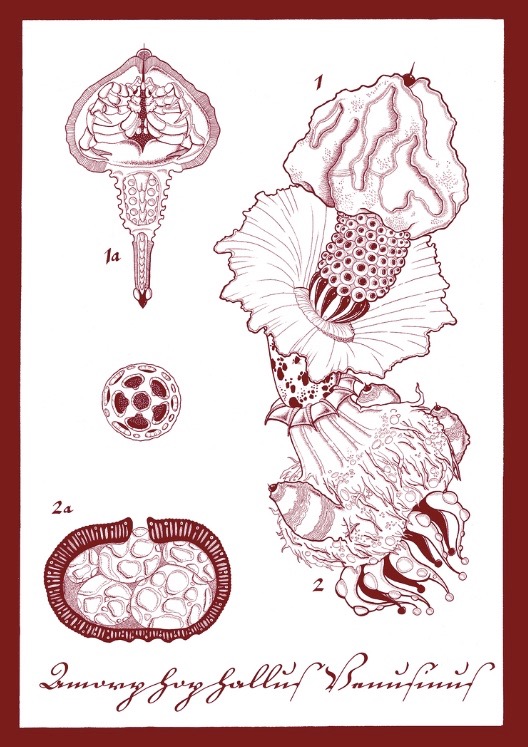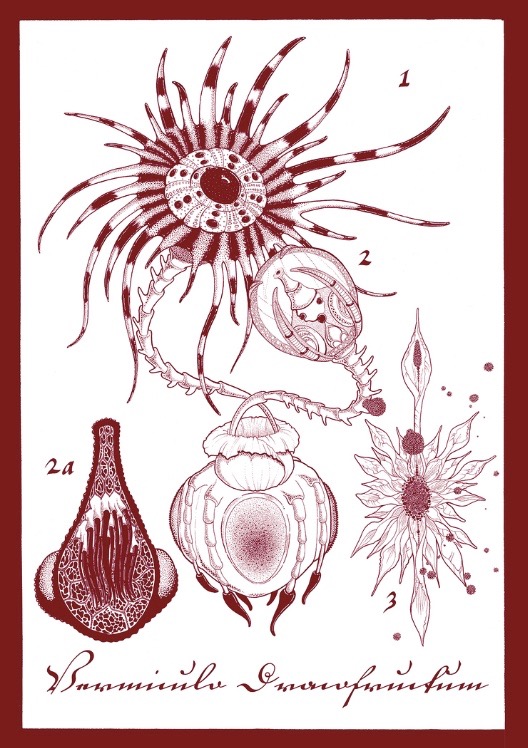 Specimen Drawing Left: Desiderium Papilionem; Middle: Amorphophallus Venusinus; Right: Vermiculo Dracofructum
 Zoetica's Moscow upbringing during the Soviet era spurred a complicated relationship with authoritarian institutions. "Growing up in the Soviet regime and then watching its very public demise did a lot for the way I interact with reality today: there is nothing I don't question," she tells us. Continuing, "This isn't meant to sound bleak — having no trust in systems is essential for artists."
Later, as a runaway teen in the american south, Zoetica found herself in the "backwater crevices" of Louisiana and Texas. It was here, she tells us, she learned about "voodoo, cayenne pepper, and catching 'gators with bread and duct tape." In addition to her extended travels in Peru and China, she has lived in London, LA, Chicago, Silicon Valley, and Dublin.
By the time she was living in LA in her 20's, Zoetica had built a sustainable career as a blogger, photographer, and magazine editor. She was the Assistant Art Director with Suicide Girls from 2006-2009. From 2006 to 2012, she operated as Co-Founder and Co-Editor of Coilhouse Magazine, a digital and print magazine poised as "A Love Letter to Alternative Culture." In 2011, Zoetica founded D4RT, a mobile art class that aimed to bring workshops and public art projects to impoverished communities, including Yantalo, Peru. In Yantalo, Zoetica donated supplies, painted a mural, and conducted a children's art workshop in the Amazon Jungle. She spent five years as an art and culture writer for Red Bull's Chinashop Magazine. In the summer of 2012, Zoetica participated in The Secret Guide to Alternative Beijing, a documentary video project illuminating the alternative art, fashion, music, and nightlife culture in Beijing, China.
Alien Botany "Interaction" drawings.
Zoetica was, by all measures,  a successful entrepreneur. But it wasn't until she left LA and all that she had built there, that her life "fell into place, piece by piece." Zoetica writes, "I was ostensibly successful, but had come to find the work I was doing (with a few notable exceptions- D4RT, The Secret Guide to Alternative Beijing, etc.) meaningless." American culture uses the label "entrepreneur" as an accolade rewarding those with the moxy and ingenuity to create professional success using their own resources, as Zoetica has. But for Zoetica, it wasn't just the success she craved, but a profound joy and meaning in her work.  
In late 2012, fueled by dramatic changes in her personal life, Zoetica decided to make a radical shift in her professional career. She decided to seek work that expanded beyond what she calls vestigial concerns, into something much bigger and more powerful — work that commanded the use of her entire self, not just her entrepreneurial one.  She left Los Angeles and most of her possessions behind, and says the the decision to "Just Leave" marked a profound launching point for the artist and creator she is today.
A few months after leaving LA, Zoetica met her future spouse in Northern California, moved to Ireland six months later, and was married in Slovenia six months after that. She currently lives in London. In addition to expanding Alien Botany, she has designed "space fashion" in a mini-collection called GHST RDR with fashion label Plastik Wrap (in Toronto). The clothing collection was "inspired by the strict riding jackets of the Victorian era, Japanese animation, and the dark punk aesthetic", and "summons visions of cyborg nuns, sexy assassins, and art house aristocrats."
Zoetica's career transition is a profound celebration of what happens when one allows their mind and art to authentically explore its own curiosities. One fashion blog wrote of Zoetica that she is "the perfect example of being as weird as they want to be, working as hard as possible and being able to live." In 2016 she was hailed Best Artist of the Year by Auxiliary Magazine, a notable magazine chronicling alternative fashion, music and lifestyle.
At the moment, Zoetica is exploring London and working on new additions to the Alien Botany fashion collection, alongside a book compiling her recent photography of Iceland in winter. We thank Zoetica for taking the time to sit down and answer questions surrounding her upbringing, travel, turning points and the inspirations behind her art. In her poignant and powerful words, we explore the intentional and unintentional shaping of one's self and future based on what we choose to embrace about our past and our present life.
Left: A piece from Alien Botany Fashion Collection; Middle: A piece from GHST RDR collection with Plastik Wrap label; Right: Leggings from Alien Botany Fashion Collection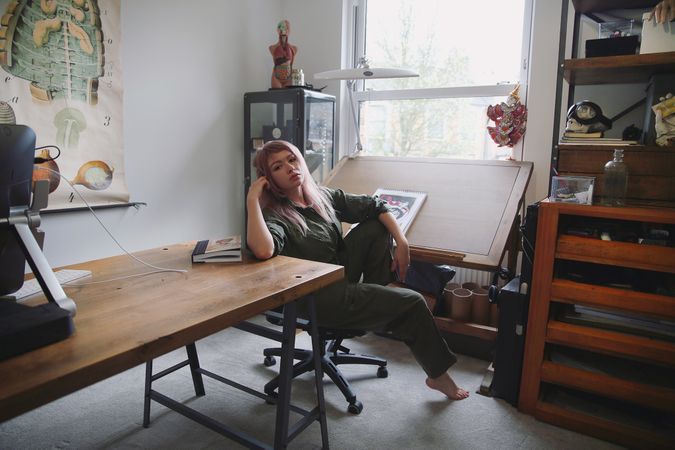 You have lived in and traveled to many different places, from growing up in communist Moscow and LA to living in the American south, Chicago, The Bay Area, Ireland, etc.). Have any of these different places influenced your art or your career?
Growing up in the Soviet regime and then watching its very public demise did a lot for the way I interact with reality today: there is nothing I don't question. This isn't meant to sound bleak - having no trust in systems is essential for artists. I consider myself lucky, and not only because I got to witness a unique part of history, or because I was brought up in an atheist society, but also because of Russia's abundant creative tradition. The plethora of art I devoured in childhood continues to enrich me to this day.
The South I navigated as a runaway teen was limited to the backwater crevices of Louisiana and Texas. It taught me about voodoo, cayenne pepper, and catching 'gators with bread and duct tape. It also helped me not be too surprised when the US election results were announced in 2016. As for the rest of my time in America . . . Please ask me again in the future, I'm still thinking about it.
Ireland is the place where the Alien Botany clothing line first got its feet, where I felt real, old magic in the soil, where we lived when I married my beloved (though our actual wedding took place in Slovenia), where I realised I wanted to move to Europe for good. It was a beautiful backdrop for a period of change and transience, which I will always treasure.
There's also something to be said for escaping some of what shaped us early in life, the very choice and act of escape, the conscious sloughing and discarding of what no longer works shaping us into our whole self.
Specifics aside, spending time in fifteen countries so far instilled a hunger for uncovering and creating  secrets - that's the sweeping and most significant influence.
Where did the idea for Alien Botany come from? Why is this relevant to you?
The project began to crystallise when I read Huysmans' Au Rebours  some years ago. The descriptions of plants in Chapter 8 echoed and bounced around my head for days. As a whole, though, Alien Botany is a consequence of a lifetime of experiences and passions, conceived at the intersection of Soviet space obsession, love of the compulsive detail in traditional scientific illustration, and fascination with the beauty and horror of the natural world.
Take growing up in 80's Moscow, for instance. It was impossible to turn on the TV without seeing UFOs and hearing abduction accounts – a curious byproduct of the space race. This, coupled with my father's massive collection of SciFi paperbacks -everything from the Strugatskys to Bradbury- established an enduring affection for the speculatively-cosmic.
Back before numerous international moves, when I was a collector, I amassed vintage medical tomes, tools, models and charts. There is something very human and very pure in the old scholars' need to discover, dissect and disambiguate our reality through expeditions, research, and exhaustively-detailed illustrations — but also a great deal of speculation, in the early days.
It seems like research would have to play a role in your work, as well. Can you tell me about places you go for research, or courses you have taken that help fuel your work and interests?
I do go to significant lengths for inspiration and knowledge, in general. Having recently moved to London, one of the first things I did was join the British Library, which is a mind-boggling archive, going back centuries and housing everything from the Codex Sinaiticus to Oscar Wilde's letters! I took a course on the history of witchcraft in medieval Europe there, too — felt relocation-appropriate, and, with the re-emergence of public pop-witchcraft lately, I've become interested in the details.
I also spend a lot of time at the Wellcome trust, admiring the medical models in the wunderkammer, or curled up in the reading room. Even in research mode, I attend life drawing workshops as much as possible - in addition to keeping me warmed up,  they're essential in helping me work faster and with more confidence.
London itself is vastly inspiring and teeming with museums, gardens, Victorian cemeteries, a spine-tingling assortment of architecture, and so much captivating, murky history. Even so, I travel a lot. My current favourite places include the orchid conservatories at the botanical gardens in Edinburgh and Dublin, the gorgeous KSEVT space center in the tiny Slovenian town of Vitanje, the Antoine Wiertz museum in Brussels, and Iceland's frozen waterfalls in winter.
Feature stories inside Coilhouse Magazine: A Love Letter to Alternative Culture. 
 What does alternative culture mean to you?
The currents that run below the surface — themes, objects and histories that require investigating. Inspiration that's chosen and sought out, rather than flickering from mass-media screens, or spoon-served in "viral" marketing campaigns. I like to dig for my culture.
Between running and founding a magazine, designing fashion, managing kickstarters, film production, photography, drawing and multimedia art projects, what's one thing that ties all of your work together?
Everything listed in this question could fall under the umbrella of multimedia art, so I'd say the unifying thing is me. I'm interested in a myriad of subjects and find that the only way to truly assimilate experience is to work with it; to absorb, and perhaps transform it. When I get interested in something, art is the logical consequence, and because every experience is different, the medium reflects that.
You have been successful in many different fields, though at some point, I am sure some of these industries were new to you. What is your philosophy on risk taking in business and in art?
If "Philosophy" implies "strategy", I have none – strategy is something I have little interest in. Not taking chances, though, is much scarier than the converse. Does that count as a philosophy?
You mentioned once in an interview that you experienced a major shift in your career in 2013 and "had found what was of true value to [you] and devoted [your]self to it." What is of true value to you and what shifted?
That was quite the eventful year! I'd just left LA and most of my paid work and possessions with it, embarking on what I thought would be akin to a monastic sabbatical.
The original shift had come over a year prior, though. I wish I could say I'd arrived at this epiphany on my own, but, as is often the case with these things, it was spurred by shock: my father had died suddenly. I remember sitting at a cafe with a friend a few months later, and saying, "It's just that I don't care about anything now", which sounds dramatic at best, and suicidal at worst, but it was actually neither. Back then, I was a perceived as some kind of entrepreneur: blogger, photographer, culture writer, model, and magazine editor, who occasionally made art. I was ostensibly successful, but had come to find the work I was doing (with a few notable exceptions — D4RT, The Secret Guide to Alternative Beijing, etc.) meaningless. I'd also had enough of LA and had no idea what could be done about any of this.
The moment I decided to put my things in storage and Just Leave was the moment the entirely of my life fell into place, piece by piece. I gave myself time to evaluate my priorities, and, away from everything, rediscovered that I absolutely must have 1. time and 2. space to draw in order to be happy. Then, just three months after my move, I met 3. — the love of my life, which put an end to the monastic aspect of my sabbatical.
Trying my hand at everything that I happened to be decent at, or that interested me, was beneficial for personal growth and helped refine what I wanted to excel at. It also helped identify and abolish vestigial concerns with ill-fitting external norms and notions. Of personal value: evolving own work, love, freedom. Shifted to the back: everything else.
Left: Zoetica and crew interviewing renowned photographer Chen Man in Beijing. Middle: Zoetica's art class in Yantalo, Peru (D4RT). Right: D4RT project Yantalo, Peru. 
I also read that for many years, you said "yes" to every project, but now you're "only interested in projects directly related to [your] current personal work and [you] guide [your] creative energy into this exclusively." What is your current personal work and how do you guide your creative energy to it?
I meant Alien Botany, and this continues to be the case today, though I still do photography, art direction, and illustration from time to time. That time and space I mentioned? I'm using them to feed my brain and advance my technical skills, so I can do my best getting concepts out of my head and into the world. This primarily means drawing, but sometimes veers into fashion design, or sculpture, for instance. The key is that everything comes directly from me. That's not to say I'm not open to collaborations of any kind, rather that, for now, they must connect to my internal machinations.
I do still manage to give myself side projects, though. Right now, it's a book of my photography from Iceland alongside new textile designs and drawings, so learning how to say "no" to me hasn't quite materialized.
Describe the look and feel of your studio.
"The tiniest art archive in London". I delight in having a home studio these days, but living in this city means space is scarce — I've done a lot of vertical eschering in here. You'll find a vintage, hand-made plan chest for storing large drawings with some semblance of dignity, a shelf on top of that for art and shipping supplies, two tables, books, candles, a medium-format printer and, maybe most essentially, a south-facing window, an enormous Pfurtscheller earthworm print, and a steel-and-glass cabinet filled with personal talismans – me-concentrate, if you will. The only things missing are more space, storage, and a giant armchair, as it's not particularly cosy reading at my desk. Lately, I've taken to piling pillows under it, and that's working out well.
Oh and, if I'm in the studio, so is my little canine familiar, Micron.