"Every part of my body was tingling and I was so alive . . . I said to myself, you won't have this moment again." In June of 2016, Squash Falconer and a group of peers, led by a guide, traveled to a remote coastline in Northern Svalbard. Svalbard is an archipelago off the coast of Norway in the Arctic Ocean. Basing out of a ship, Squash and the crew made daily trips ashore to ski the untouched peaks beyond its coastline. On one particularly cold day, Squash and her group disembarked the ship onto the icy beach. Dared by the local guide, Squash looked out at the icebergs and the grey, and then back at her feet as they stood on the icy beach. She took a deep breath, took her first few steps and plunged into its icy waters.
"The ice-cold water touched my skin and hurt," she recalls, "but the exhilarating, energizing feeling when I came out of the water was like no other, and every part of my body was tingling and I was so alive." For Squash, it's not just the adventures we train for that make for an adventurous life. Often, it's the unexpected moments that hold the most excitement. Despite the sting of the ice water, Squash was laughing.
Squash Falconer grew up in Derbyshire, England, the daughter of an entrepreneur-retailer and a restaurant manager. A career expeditioner, she is most known for her trifold expedition: She rode her motorcycle through the Alps to the South of France, climbed Mont Blanc (the highest mountain in the Alps and known for its perennial ice and snow) and launched her paraglider from its snowy ledge. After quickly soaring the mountain's bowls, she returned safely back to the mountain's base.
However, Squash has also earned herself an impressive bouquet of firsts: She was the first British woman to snowboard Mount Mustagata in Tibet, the world's highest bum-boarder on Cho Oyu in Asia, the first British woman to launch a paraglider off the summit of Mont Blanc and the first British woman to paraglide from the top of Gran Paradiso in the Graian Alps.
Additionally, she has summited Everest, the highest mountain in the world. Squash has led or co-led climbs on some of the world's most impressive mountains including but not limited to Sassiere in France, Vespignani in Patagonia and Lobuche in Nepal.
As a career expeditioner, Squash is well-aware that the inherent challenge of adventure doesn't change. The only thing one can change is their approach and their training. Squash has not only made a career, but a life, of training for the seemingly impossible and improbable. For her, a life of adventure requires three things: persistence, the ability to start small, and attitude.
Persistence has been key to Squash's career. When others may have failed entirely, Squash had the persistence to return to a challenge even after it had shut her down.
Take Squash's summit of Mont Blanc, for example, which took three attempts. On the second attempt, Squash had a near disaster. She and her climbing partner, roped together on an icy ledge, took a fall. While leading the climb, Squash lost footing with her crampon and slipped. They were able to dig in their ice axes and arrest themselves just before plunging into a deeper disaster that could have swallowed them both. Once Squash and her climbing partner came to a silent stop, they quickly and carefully reassembled themselves and returned to their route. With few words between them, they prepared themselves for a safe descent.  No doubt, this fall was in mind when gearing up for the third and successful attempt to summit the 15,774 foot peak. The mountain is reported to have taken 6,000-8,000 alpinist fatalities, a record in the climbing world.
Squash is a reminder that a task, like summiting a mountain, can take multiple attempts. However, she reminds us, if you don't return for a future attempt, you will never reach the goal at hand.
Squash knows that when it comes to expeditions, it's important to start small. A common misconception about adventure athletes is that they are born with some unshakably intrepid spirit. That they have some godly ferociousness inherent in them that drives them to do what others never could. Squash is a reminder that the first step of any journey starts just as it would with any of us: with uncertainty. Squash's success lies in her decision to take the first step despite her uncertainty. The key in any big goal, is to start small and train your way there.
Squash tells us of her early years, thinking about climbing Everest: "There was no way I could climb Everest," she says. "That was something other people did . . . I didn't know how, so I didn't even imagine it."
Often people see the "improbable" as a result of an inferiority within themselves rather than a quality of the obstacle at hand. Similarly, it's nearly impossible to act on something if you have no way to imagine how it can be completed. Imagining a difficult adventure presents like a kind of self-imposed aphantasia, a condition where you literally cannot visualize the image. If one does not see a clear path, they are unlikely to take the first step.
For Squash it was similar. But, over time, she tells us "things evolved and [she] started to see a way." In the early 2000's, Squash joined a group of endurance adventure racers who were friends of hers. In 2004, the group planned to climb Aconcagua in Argentina. Aconcagua's peak sat at 6,975m and is the highest peak in the western hemisphere. Squash wanted to go. She sought her friends advice on how to train and what she needed for the trip. With their support, Squash trained for her first big mountain climbing expedition. "Lack of experience," she realized, "can be overcome with an experienced and solid team around you, a good level of fitness and a massive dose of the right mental attitude." In December of 2004, Squash summited Aconcagua with her team.
From this confidence, she repeated the training process and summited other mountains. In September of 2008, Squash summited Cho Oyu in Asia, the 6th highest mountain in the world. It was after this summit that she realized Everest was only 600 meters higher in elevation than Cho Oyu and similar in its technicality. She considered her progress and realized, "Maybe Everest wasn't out of the question."
In the following three years she "started to see a way [to summit Everest] and the crazy idea became a possibility." That's the thing about the impossible and the crazy: Though there is no substitute for time and experience, "broken down into smaller parts," and with a "good team behind you, a crazy idea isn't so crazy!"
In addition to persistence and training, Squash's secret to a successful career is her joyful attitude. Perhaps it is the spontaneous and joyful nature of Squash's personality that has attracted sponsors such as RAB, BMW, Salomon and many others. More than a living, Squash has made a lifestyle of leading big climbs and finding the joy in physical and mental challenges.  
In 2007, Squash and her expedition team climbed Mustagata in Tibet with the intent of descending by snowboard from its summit. The approach became arduous as a dangerous snowstorm began to build. Without time to safely let the storm pass, Squash and her team were forced to turn around just a few hours from the summit. But Squash didn't let this disappointment detract from the rest of the expedition. For her, summiting is not the only goal of an expedition. She knew there was more to the trip.
Squash and her team did turn around. But not before strapping on their snowboards and descending the gargantuan mountain face. Deep powder turns and the site of jagged peaks thousands of feet above an arid desert were welcome rewards to a challenging climb. They were the first Brits to grace the those slopes by snowboard. "Despite not making the top and the trip being a 'failure' I realized it had actually been a huge success . . . Ultimately, the success of any adventure lies in the coming back alive . . . and the top is only one small part of the adventure." It's "the doing that counts" Squash adds.
Unique to Squash is her documented attitude: All the photos you see of her in route reveal a grin and not a grimace. Her smile shows a light-heartedness combined with a wisdom that is derived as much from the bad days as the good. Paramount to living a quality life is living in the small moments as much as the big ones. And when it comes to a good dare, we already know she'll take the plunge.
To learn more from the source, we sought an exclusive interview to learn more about what it actually means to be an expedition guide, close calls and self-arrests on Mont Blanc, life at Everest basecamp, managing the demons of self-doubt and the importance of a good pair of knickers.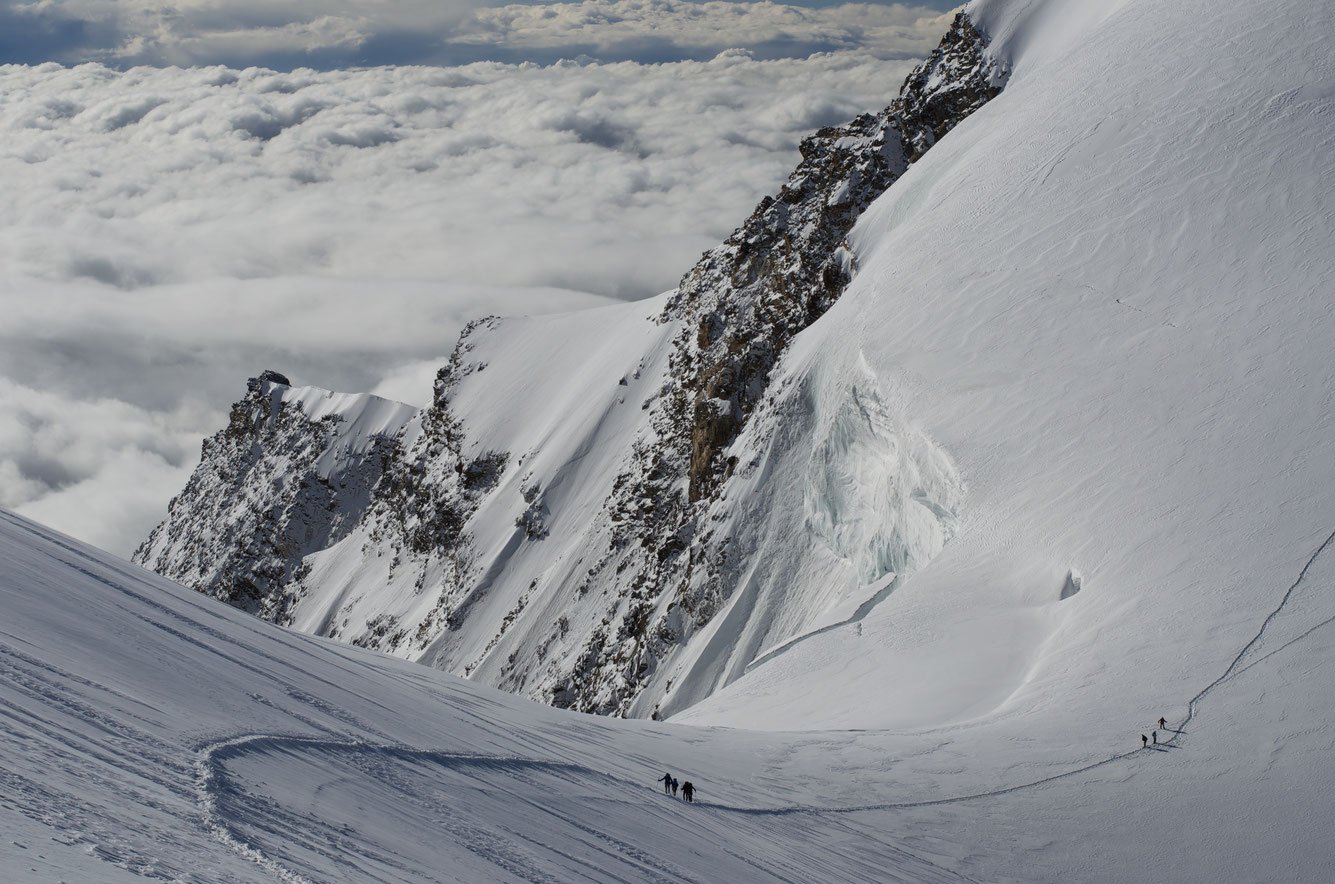 Climbing Monte Rosa, Aosta, Pennine Alps. Photo by Squash Falconer. 
Squash is often asked how she got her name and if it is her real one. She mentions on her website, "When I was born my sister Jo was 15 months old. She couldn't say Louise (that was my intended name!) so she called me Ease, then Peas, then Squashypeas and then finally just Squash! Throughout my life I've always been Squash and as far as I'm concerned my name is Squash, if I hear Louise it usually means there's somebody nearby called Louise or I'm in trouble--either way, I don't respond!"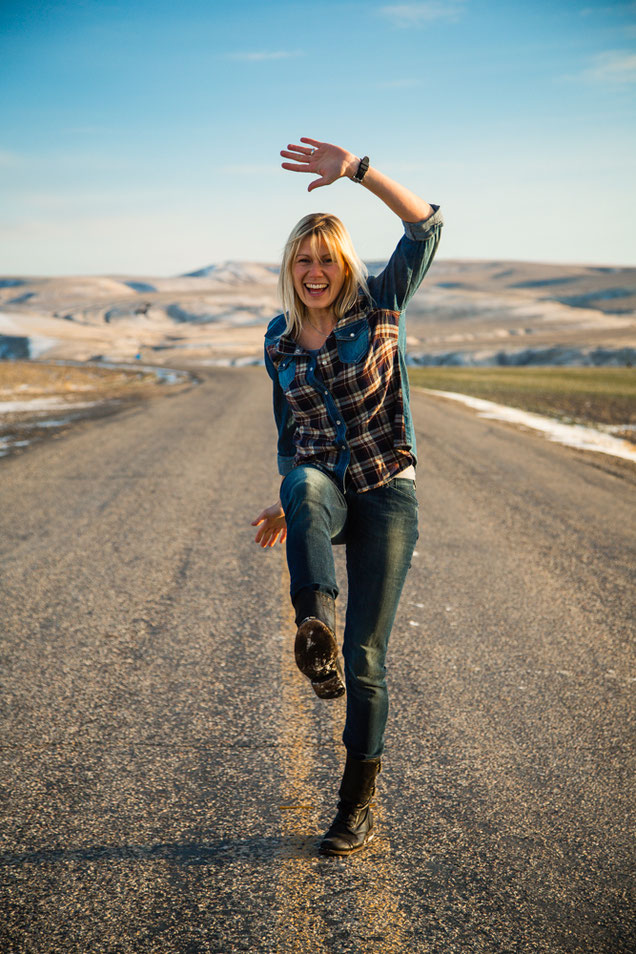 Photo by Jessica Wardwell
Tell me about what the responsibilities are like being a lead and a co-lead on climbing expeditions. What does this role mean and what is involved?
Being a leader or a co leader means that I have the experience and information to share with the team so that we can make good decisions before and during the expedition to make it a success.  The role often starts with training and kit well ahead of the climb.  I share my knowledge of how to prepare physically for a trip and what kit to take.  Being prepared physically, mentally and even emotionally is a vital part of any mountain expedition.  It's important to get to know each member of the team, to understand the team goals and individual goals.  It helps to know what makes each person tick and therefore how to inspire and motivate them.  The responsibility is huge and it's something I both enjoy and take very seriously.  Things can go very wrong, very quickly in the mountains and decisions must be made first and foremost to keep everyone safe.  For example, turning around from a summit, especially when you are so close to it, is not an easy thing to do, but sometimes it's absolutely necessary.  I also think a big part of the role is to ensure people are as happy and as comfortable as possible, getting the most from the experience.  It's not always easy to achieve this in a mountain environment, but there are definitely things I think I can do to make for a better experience.  Sometimes it can be as simple as getting the pace right and working to keep everyone at a comfortable temperature and fuelled right.  The difference between a day going too fast, feeling too hot and like you're on the edge of burning out compared to a steady pace, where you can chat to each other, without getting sweaty and with plenty of stops for refuelling is huge.  As a leader and co leader it's my job to notice and monitor each member of the team.  Has someone slowed right down and stopped speaking?  Is another member struggling with kit?  Is everyone ok?  I like to create an environment where people feel they can ask any question, without feeling worried or silly or embarrassed and where the team can share their excitement, enjoyment but also concerns and fears.  My aim is to allow each person to feel responsible and in control of their own expedition but to know there is a safety net in place should they need it.  Being a leader is different to being a co-leader.  Co-leading is a shared responsibility with shared decision making, as the leader the butt ultimately stops with me so pressure is really on!
You have been the first British woman to snowboard on Mt Mustagata; the world's highest bum-boarder on Cho Oyu in Asia; the first British woman to paraglide from Mount Blanc and the first British woman to paraglide from the top of Gran Paradiso in the Grapian Alps. Was your goal to be the first in any of these expeditions or were they adventures you had dreamed up independently of the record?
They were adventures dreamed up independently of the record.  My goal was the expedition and the experience.  It was afterwards that I found out I was the first.  When I successfully flew from the summit of Mt Blanc it was my climbing partner, Irwyn Jehu, who suggested that I might be the first British woman to do so and it was confirmed a few weeks later that I was.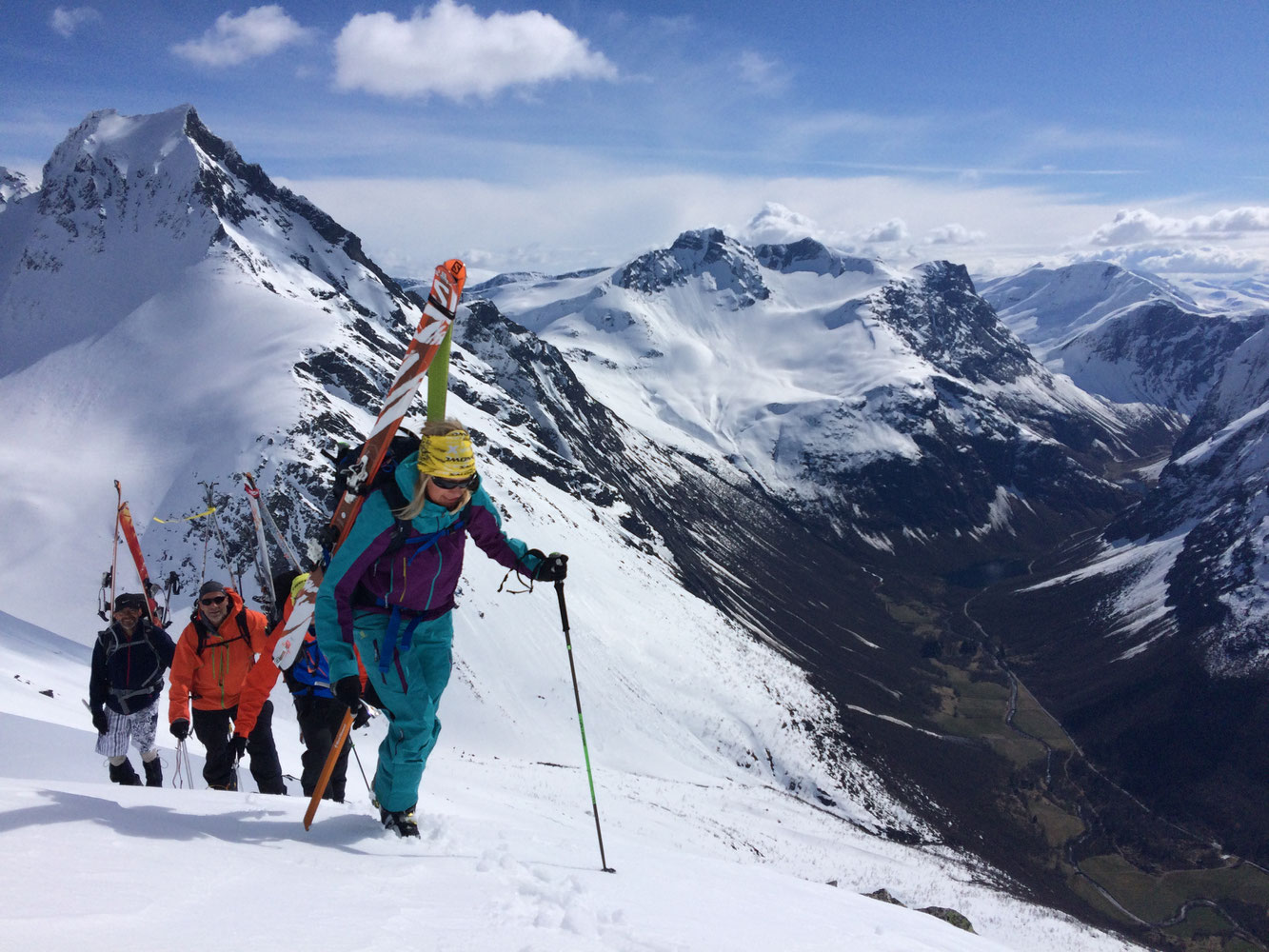 Top: Ski Touring in Fjord Norway. Photo by Asgeir Blindheim; Bottom Left: GoPro Shot by Squash Falconer;  Bottom Right: Photo by Kamil Tamiola 
Regarding your expedition on your motorbike through France, your climb of Mount Blanc and paragliding flight off the top: When and how did this expedition occur to you? 
It was three goals I had over a number of years that I decided to roll into one adventure! When I was 18 I did a ski season in France and had views of Mt Blanc, I would often look at it and think, people climb that mountain, wouldn't it be cool if one day I did that.  I passed my motorbike test when I was 21 and daydreamed about riding a bike to the South of France along the amazing, endless, winding roads through the alps.  And when I learnt to paraglide at 26 I thought it would be incredible to climb a high mountain and fly down from the top.  Then one day it clicked; I could ride a motorbike to the South of France, to the foot of Mt Blanc, I could climb the mountain and if I got to the top I could fly off!
Was there ever a time when these accomplishments would have sounded crazy to you? If so, what changed that made you think they were possible and worth pursuing?
Yes, definitely.  For me, it was a combination of experience and other people's words that changed ideas from crazy to totally possible.  Climbing Everest, there was no way I could climb Everest. That was something other people did.  How would I even begin?  When I didn't do things, like mountaineering, I didn't know how, so I didn't even imagine it.  I think what happened was, over time, things evolved and I started to see a way.  I wasn't a mountaineer but then an opportunity to climb a mountain with friends came up.  It was Aconcagua in Argentina; I didn't have any experience but my friends reassured me that with my level of fitness and their knowledge I would be fine and so I went along and I was fine!  Then I climbed bigger mountains and slowly progressed and in order to climb more I started to work with the climbing company I was doing the expeditions with.  Over time my experience and confidence built and I loved doing what I was doing, I was passionate about it and that made it worthwhile, I was living the life I wanted to live.  Then one day, someone suggested to me that I was strong enough to climb Everest and that planted a seed in my mind.  Over the following three years the seed grew, I started to see a way and the crazy idea became a possibility.  Other people played a significant part in me doing a lot of the things I've done.  It only takes one person to say you're strong enough, you have the ability or you can do it.  So many people told me my idea to ride a motorbike to South of France, to the foot of Mt Blanc, climb it and fly off the top was crazy.  But one person didn't, Irwyn, my climbing partner, he thought it was a perfectly reasonable idea.  I could ride a motorbike; I was an experienced mountaineer and had climbed bigger and more difficult peaks and I could paraglide.  Far from being crazy I would actually be very sensible.  I ride a motorbike quite defensively, I'm happy to make the call to turn back on a mountain if things aren't going well and I'm the first to not get my paraglider out if it's bag if the conditions aren't right.  Broken down into smaller parts, with the right experience and a good team behind you often a crazy idea isn't so crazy!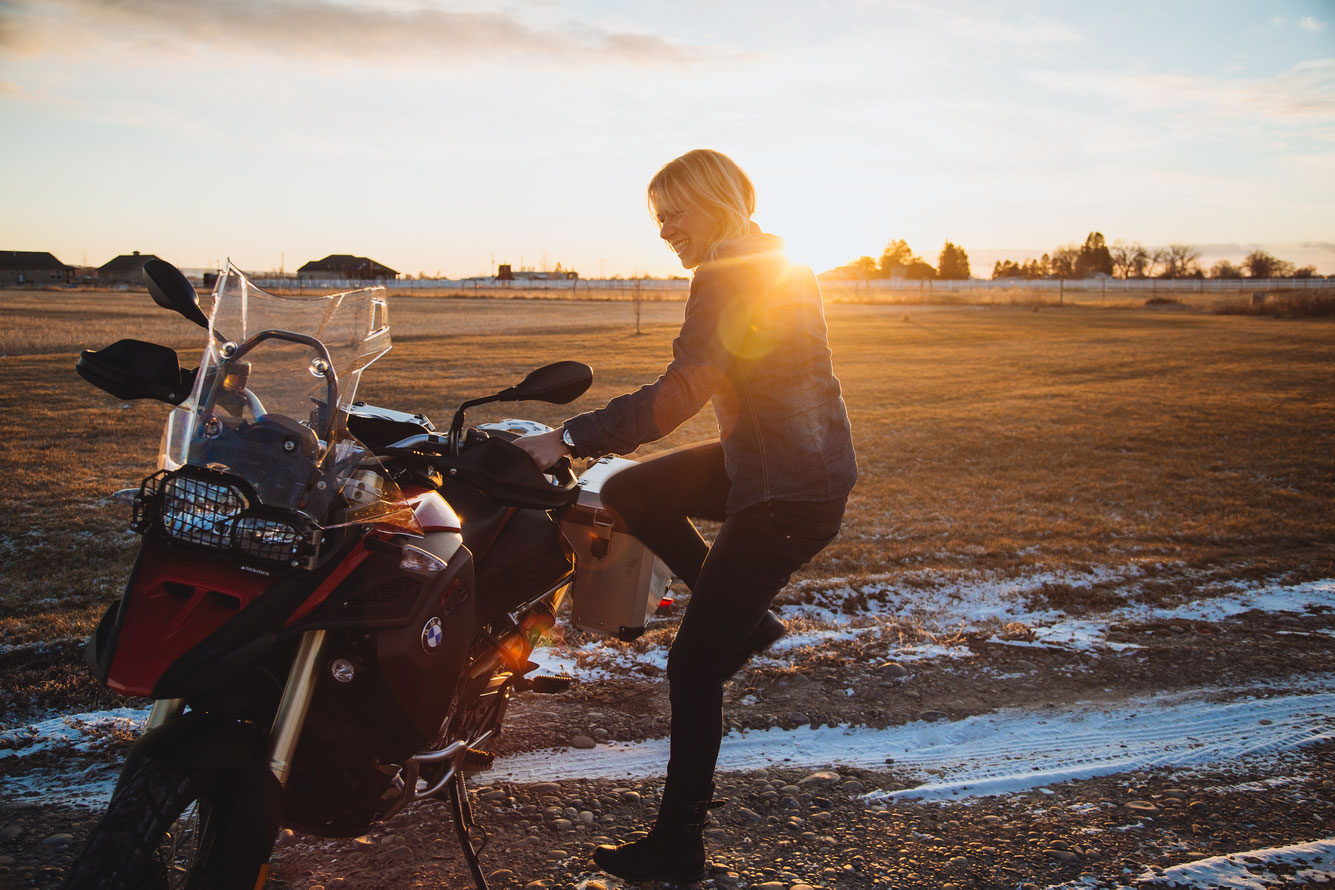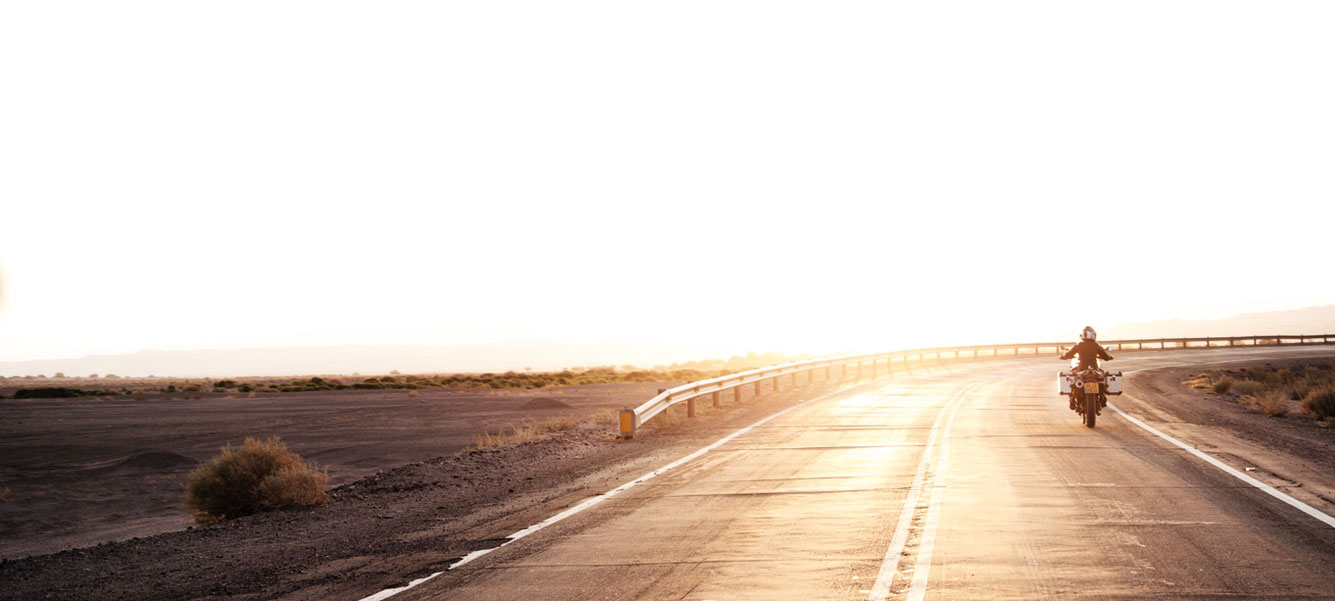 Photo by Jessica Wardwell (top); Squash on her BMW in Argentina (bottom); Photo by Daley Hake
What are some of the unexpected challenges you experienced in your expeditions and how did you overcome them?
I fell off Mt Blanc!  On our second attempt to reach the summit (it took three attempts) Irwyn and I, roped together, were climbing a steep ice face.  I was leading when I lost my footing with my crampon and slipped.  I was falling, it was a very surreal moment, it was like everything went into slow motion.  My mind was calm and I told myself, you're falling Squash, you need to use your ice axe and arrest yourself.  Which I did, however, as I fell I was attached to Irwyn with a rope and I had pulled him off and he was now falling, he fell past me, the rope tightened and I was off again.  Fortunately, as there was a huge crevasse below, we both managed to dig our ice axes in and arrest ourselves.  We came to a stop and there was silence.  My heart was thundering in my chest and I was breathing deeply.  I uttered the words "sorry about that" to Irwyn and we continued.  It wasn't until we got off the mountain later that day that we actually talked about it and the reality of what had happened and the dangerous position we had been in sank in.  I was relieved to learn that in moments of immense distress and chaos that I had the ability to be calm and deal with the situation.  I had no idea I was capable of that.
Another very unexpected challenge I faced was when I reached Everest basecamp, it was the mental challenge of dealing with the dangers around me and the thoughts of what could go wrong.  The challenge until that point had always been a very physical one, I hadn't thought about the mental side so much.  Basecamp a very difficult place to be.  It's high - higher than Mt Blanc Europe's tallest mountain – at 5,300m you really feel the lack of oxygen.  It's also very uncomfortable.  It sits at the foot of the Khumbu icefall and is a massive area of rock and ice.  Then there's the avalanches and movement in the icefall which sounds like bombs going off all around, with the constant threat that at any moment the ground might open up beneath you.  With so much free time at basecamp acclimatising there was plenty of opportunity to get worked up and anxious.  It was then that I really spent a lot of time on my own, in my own head, getting to know myself, reassuring myself, and learning to deal with the mental and emotional pressures of the position I had put myself in.  I reflected on my past experiences, I reassured myself that I would and could make the right decisions in order to keep myself safe and I also worked hard to keep my own council.  Sometimes others can plant doubt and worries in your mind, especially when they are nervous and anxious themselves and I worked hard to not let that influence me unnecessarily.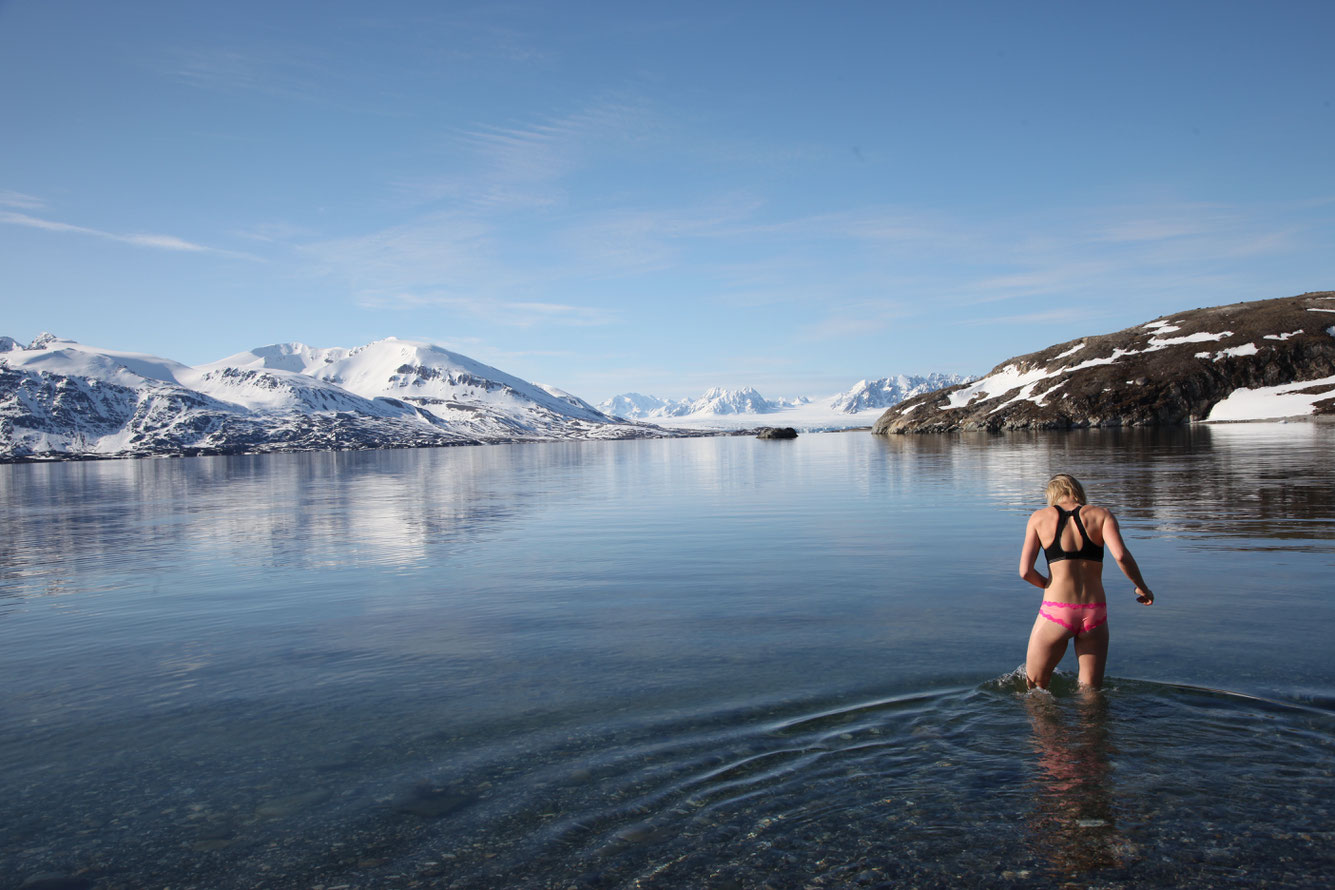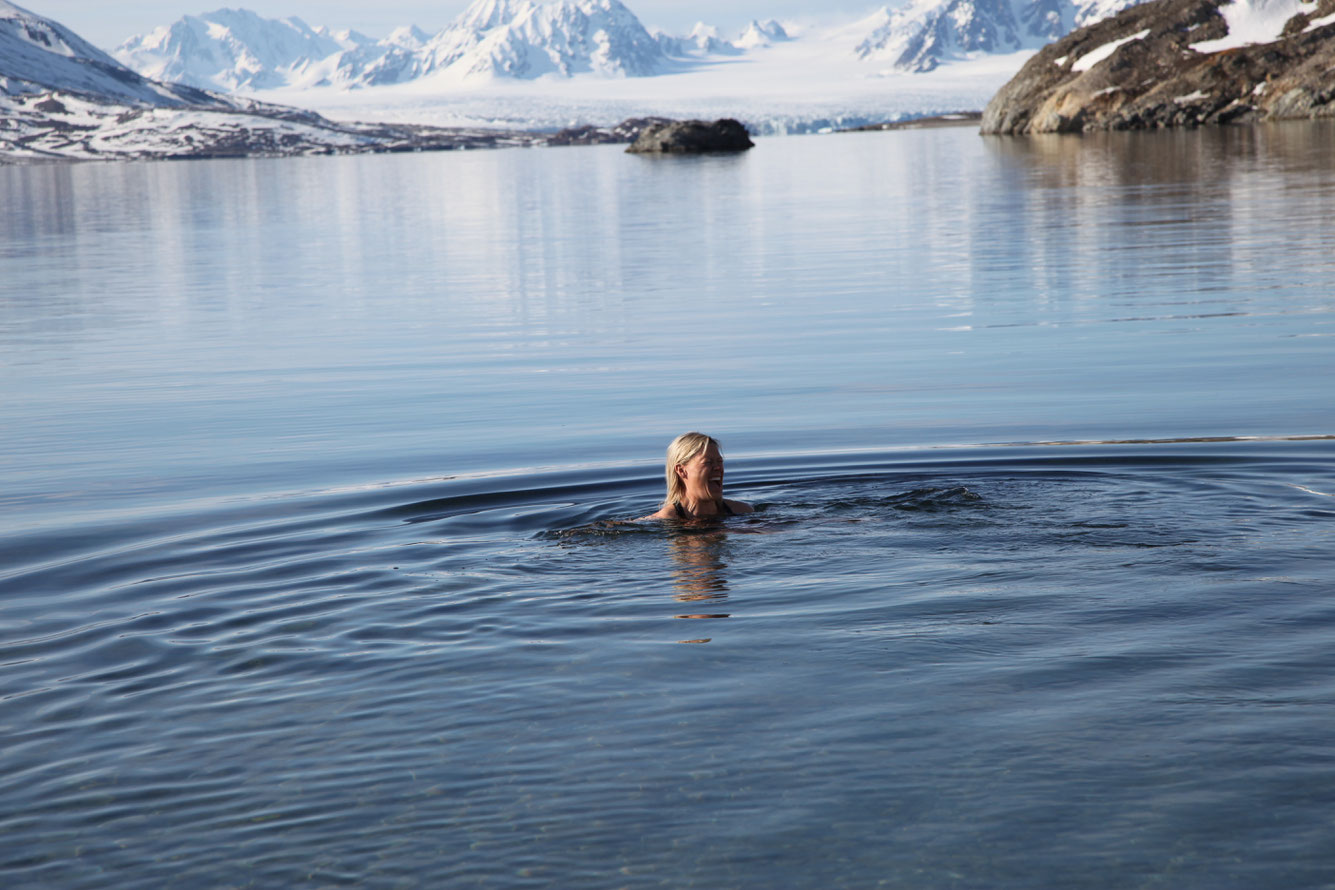 Stepping into the ice cold water of Svalbard (above). Swimming in ice cold water of Svalbard (below). Photos by Jerry Ranger
Your knickers campaign is hilarious! Can you tell us your knickers philosophy and why this is important to you?
I have a theory that if your knickers are right, then your day goes right.  Every morning I start my day by opening my underwear draw and thinking which pair do I feel like wearing today.  I've done it for as long as I can remember.  When I had a test at school I would wear my lucky test knickers, if I had an important meeting it'd be my serious knickers and if I was on an adventure then the adventure pants would be on!  The deeper meaning and thought behind it is that if the small things are right then the bigger things fall into place. 
I set off for one of my early expeditions that was a month long with 28 pairs of knickers!  I hadn't really thought about it; it seemed simple to me that I was going away for 28 days and would therefore need 28 pairs.  I discovered on a rest day when the team were doing their washing that the other members had only 4 or 5 pairs – they were shocked I had so many – but it's important to me and I stick to it.  Everest, for example, was a 60-day trip, I took 60 pairs of knickers!
What websites, books, music or speakers do you refer to for inspiration or have influenced you personally?
One of my favourite books is Mans Search for Meaning by Victor Frankl, "Those who have a 'why' to live, can bear with almost any 'how'."  I think when we understand our reasons and what's important there is no stopping us no matter how tough or difficult things get.  This quote became very relevant to me on the toughest day of my life, Everest summit day.  I could bear the exhaustion, the cold, the difficulty because I wanted to get back safely to the people in my life who I loved and who loved me. 
I love lots of music and so many songs are great to train to and get motivation from.  One song that comes to mind right now is Bush, Letting the Cables Sleep.  "Whatever you say it's alright, whatever you do it's all good…" I listened over and over to this song when I was training for Everest and when I was on the mountain.  I battled with how selfish it was to be there doing something so dangerous (not only did I want to climb the mountain I wanted to become the first woman in the world to fly from the summit).  Sometimes our goals require us to be selfish and that's ok.  This song helped me to feel ok about what I was doing.  Sometimes reassuring words that everything is ok and alright make all the difference in moments of worry or anxiousness.
Rather than being influenced by speakers or websites I get a lot of inspiration from people close to me in my life.  My friends and family the people who I see day to day.  I have a friend battling with MS and her attitude, her constant positive outlook is incredible.  She inspires me to do the best I can, be the best I can and to never give up. 
If you had to choose a motto for your lifestyle, what would it be?
"You will never have this moment again, so what are you going to do with it?"  There are definitely moments when it's easy to not do something, not take the opportunity, not make the most of it, take the easy route – but so often that's not where the reward is, that's not where the exciting energy that makes us feel alive is.  I was in Svalbard last year and we left our ship to go ashore, "this is the best beach for anyone who dares take a dip in the water" were the words I heard as I stepped onto the sand wearing my thermals, ski gear and woolly hat.  The ocean was freezing with icebergs in it but we had the opportunity to swim here, I said to myself, "Squash, you won't have this moment again".  The ice-cold water touched my skin and hurt, but the exhilarating, energizing feeling when I came out of the water was like no other, every part of my body was tingling and I was so alive!! It was an incredible feeling and I'm so glad I went for it. 
Which trek or adventure was mentally and physically the most demanding?
Everest.  Mentally the challenge was huge and physically I had never done such a long expedition.  The summit day on Everest was immense.  You begin summit day exhausted.  It come after weeks, months of being on the mountain acclimatising – going progressively higher and higher until you're ready for the summit push.  You leave basecamp at 2am climb through the Khumbu icefall and rest at Camp 1.  We spent two sleepless nights in Camp 2 before getting up in the early hours of the morning to reach Camp 3 – a brutal day climbing the Lhotse face.  Barely sleeping at Camp 3 we were up at 3am to push for high camp, at 8000m on the South Col.  Your body is surviving, you're well into the death zone.  We had a few hours to eat and melt ice for water before leaving at 8pm to go for the summit.  Summit 'day' requires climbing through the night to be at the top in the morning.  Reaching the summit is only half way there.  You still have to get down.  I will never forget stumbling back into my tent at Camp 4 after a 30-hour push with no sleep.  I had discovered new limits physically and mentally that I had no idea I was capable of.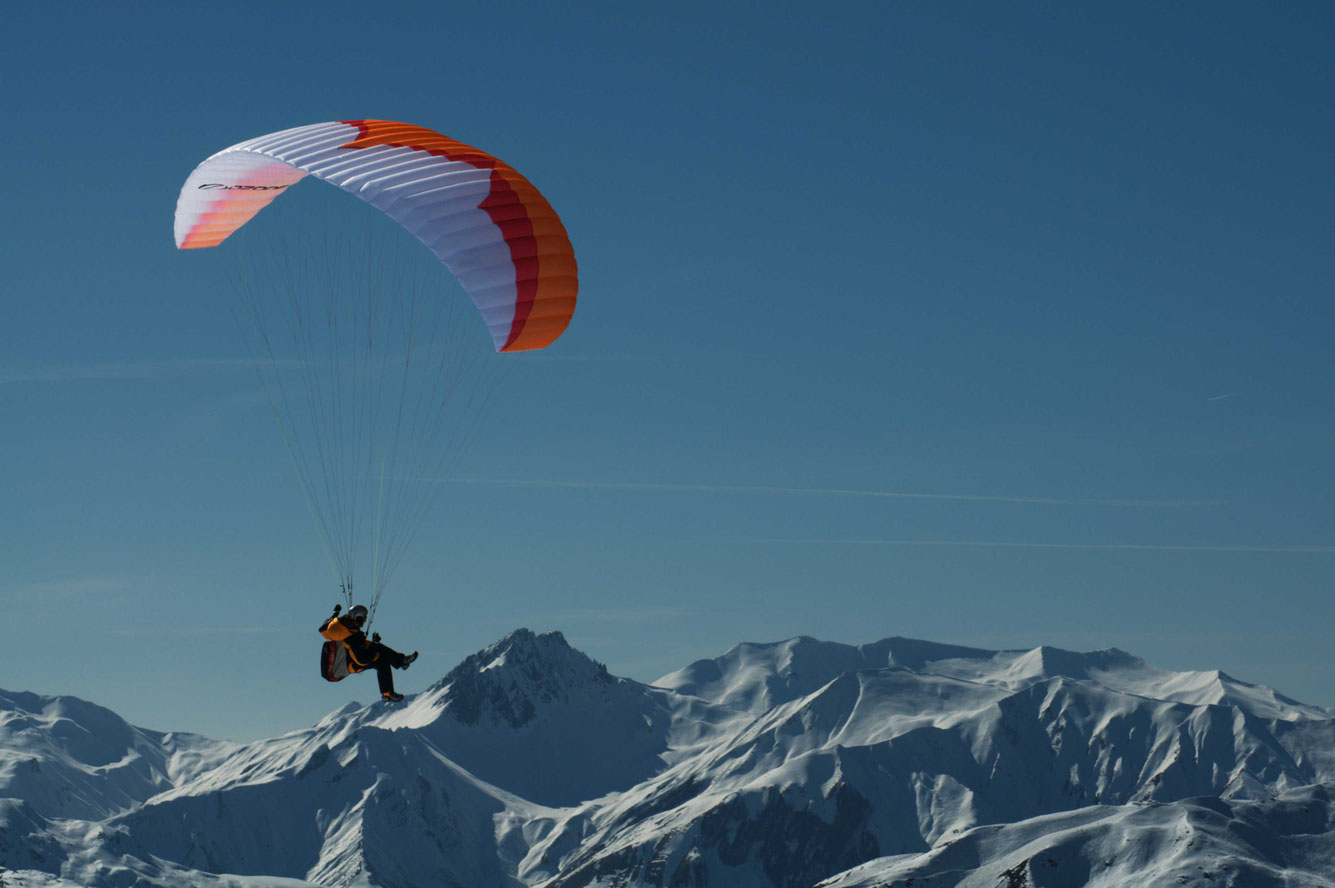 Flying in the French Alps. Photo by Oliver Orram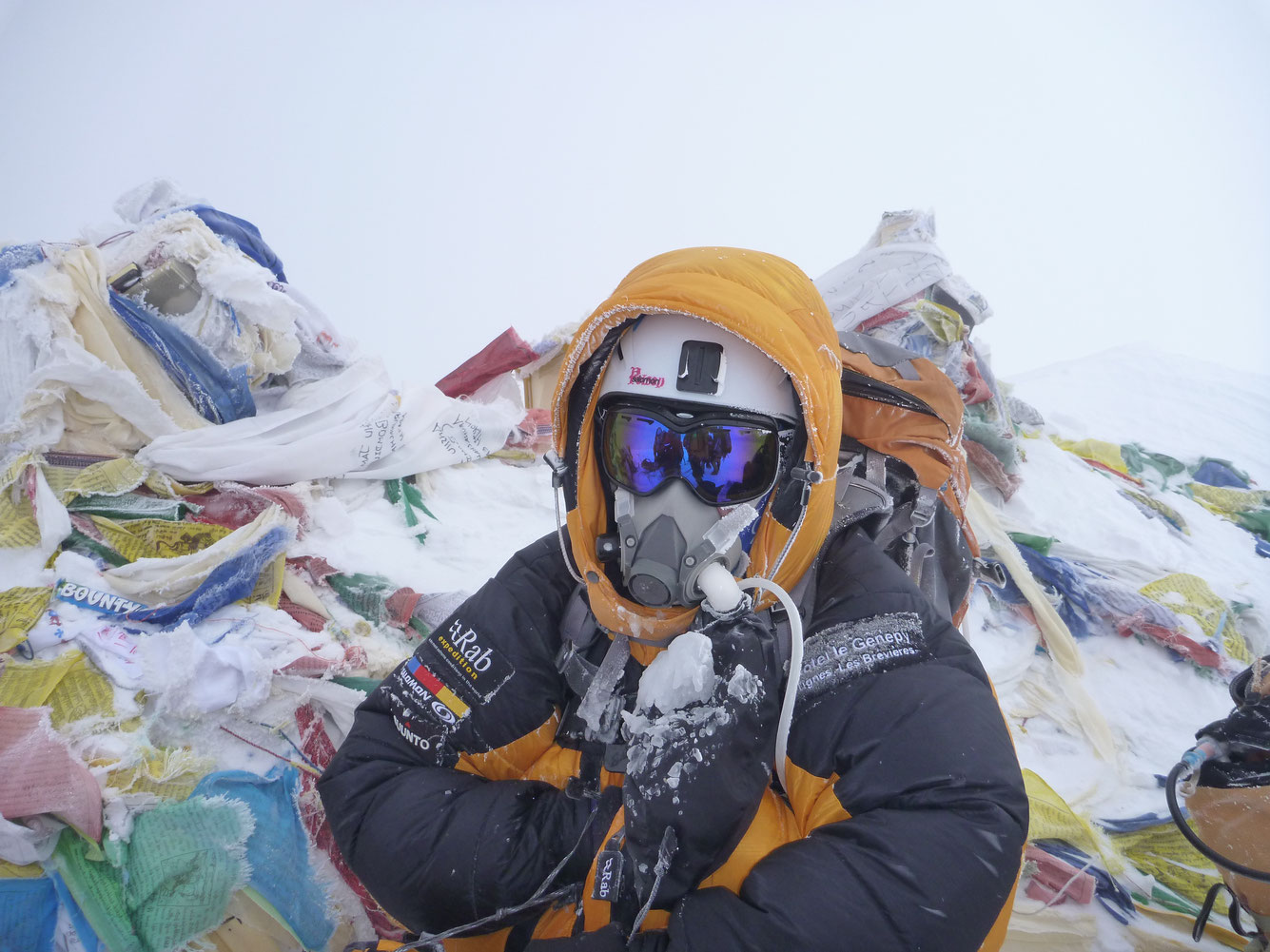 On the summit of Mt Everest. Photo by Flo Tomlinson.
What do you tell yourself or do in your moments of complete exhaustion on a trek when you still have quite a way to go?
When I reach physical exhaustion, it all gets mental, I go into my head, I tell myself I'm strong enough, that I can keep going, I talk myself through.  I find doors and places in my mind and I go through them and find pockets of energy to keep pushing.  When I'm mentally exhausted that's when emotion kicks in.  This might sound a bit cheesy but I draw incredible strength from the people who I love and who love me, I use my feelings, I dig so deep and that's when I amaze myself that I'm still moving forwards.
If you could go back and tell your 20 year old self to remember for the next decade or two, what would it be?
Don't sweat the small stuff, worry less about what people think, do more strength training, pay more attention to your core and stop eating so much sugar!  It's not bad advice to tell my 35-year-old self right now actually!
How do you spend your days off from adventuring?
A part from the obvious; sleeping eating and training I spend time with my friends and family.  I work with the brands I'm proud to be associated with; planning and executing projects, editing photos and videos and delivering write ups, Q&A's and all things associated with post-adventure.  I work on presentations and talks as this is how I earn my income and I day dream about the next adventure.
·       Can you name a useful failure that has helped you in your adventures or in your life?
We didn't make the summit of Mustagata, a 7,500m peak that my friends and I  climbed in China in 2007.  We were just a few hundred metres from the top when the weather deteriorated and we reached our turnaround time.  To continue would have been dangerous, but being so close - just a few hours away - means turning around isn't always an easy thing to do. Especially when so much time, commitment, financial commitment and effort has gone into climbing a mountain.  Despite not making the top and the trip being a 'failure' I realised it had actually been a huge success – ultimately the success of any adventure lies in coming back alive.
I learnt that the top is only one small part of the adventure.  Adventures and life are all about the journey we go on, the people we meet and the experiences we have.  It's the doing that counts! 
Photo Emma Lindsey (Left); GoPro Image (right) 
What are three unlikely pieces of advice you would give a fellow female expeditioner training for their first expedition or outdoor adventure?
Take some luxuries with you – clean clothes, soap, shampoo & even conditioner!  An expedition or outdoor adventure doesn't have to be uncomfortable.  You don't have to go for days without washing and you can keep clean.  I think a lot of people, especially women, are put off by the assumption that an expedition involves not washing or changing your clothes for days and that can be off putting.  The reality is you can use a small amount of water and have a complete body wash.  You can change and wash your clothes and having a few luxuries makes the whole experience so much better.
Don't worry too much about the training and preparation.  Whilst it's great to train well and be prepared don't let it stop you if you haven't done what you intended or feel like you're not ready.  There's a quote I like that says, let the work teach you.  The expedition itself is great training and will show you what you need.  Sometimes that's the best way to learn. 
Not all advice is good advice, listen to what people have to say, what they recommend and then do what you want to do!  Just because that's how something has been done definitely doesn't mean that's how it has to continue to be done.  Trust and follow your own instincts.
---
---