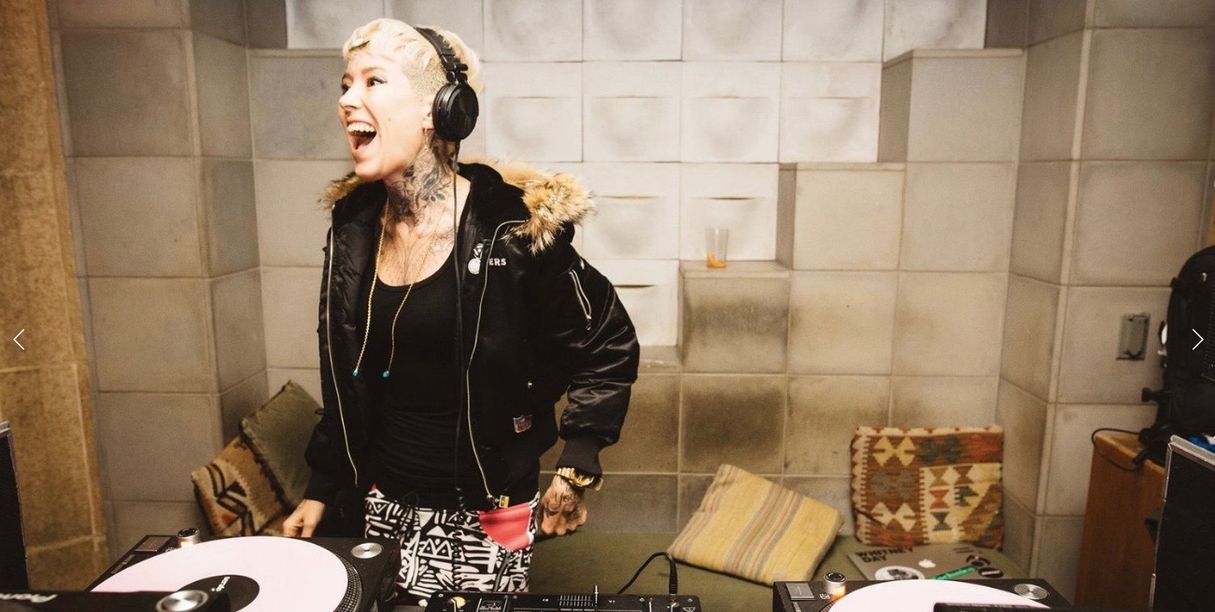 While most of her peers in New Jersey had a perfunctory appreciation for the popular hip hop of the hour, sixteen year old Ry was captivated by its New York players. Pouring over album liner notes, images and memorizing lyrics, her days centered around consuming as much of the music and the artists as she could. Rappers were like gods or warriors. "Nas, Busta Rhymes, Biggie Smalls, Tribe Called Quest, Wu Tang, Redman. They all got me through high school. I would run home, put them in my boom box, press play, take the album notes out of the case and pour over every word and image," Ry tells us. Ry knew her musical fervor was quickly becoming more than a hobby. But she had no idea how much of her life would be influenced by hip hop until she was a bit older, and she looked around at the life she had created.
Today, Ry, AKA DJ RY Toast, is a very different image of herself than she was as sixteen. Ry is a professional DJ. Last year, she played New LA's biggest New Years Eve party at Grand Park for over 50,000 people. She is also one third of the LA hip hop group, Tyrone's Jacket. She studies the mechanics and art of turntables with the Beat Junkies, has played with heavy hitters like DMX, Nas, Wu Tang Clan, and Masta Ace. She has shared stages with DJ legends Shortkut, Neil Armstrong and Z Trip. Ry has performed with MTV personality Ed Lover and worked with brands like Nike, Adidas, Puma and Lulu Lemon. In her spare time, DJ Ry Toast is active in social causes and recently performed at Into Action, a social justice festival and pop up art exhibit in LA.
To say DJ Ry Toast has a strong sense of style is simply put, an understatement. Her music is described as a "light-bringing, soul-slinging hot pink ball of good vibes" bringing with it a "zero fucks given style, and above all, love." Clad with tattoos of her heroes, Ry Toast is a mural of her conspirators and inspirations. "I have some artists who have a deep place in my soul tattooed.  I have a portrait of Stevie Wonder on my left bicep, Rakim on my right, and Pac on my forearm. I have ODB, Biggie, MF Doom, and J Dilla also. I have some of my favorite lyrics from Nas, Gangstarr, and Pete Rock & CL Smoothe," she tells us. Her first tattoo was of a boombox.
When asking her about clothing in particular, Ry tells says that she sees style as a costume. You get to ask yourself "Who do you want to be today?" and then "go be that person."
"Fashion has nothing to do with how much money you have. It's not about labels. I am into looking at the ugliest thing I can find and trying to rock it. I like buying clothes that are a challenge. But I also like to be environmentally conscious. The fashion industry is really messed up. What it has done to the planet and how its made women feel. I do my best to stay off that ride. The older I get, the less concerned I am about being perceived as pretty. It's more about being perceived as who I am. Energy reflects Energy."
DJ Ry Toast is a force of moxie and power. But the transition from starry-eyed teen to center stage took time and, like most successful stories, a bit of trial by fire.
When Ry was in college in Vermont, she found a small club where many artists would do stopover shows. She went to every possible show and bought all the records. "I loved the vynl, just holding it," she recalls. "I was coming into realizing how much I loved hip hop in College. I didn't feel like I could be on the sidelines anymore. Then I thought, 'wait, if you want to do hip hop, you have a few options. You can rap, breakdance, produce, write graffiti or DJ. You have to pick one.'" "Fuck it," she said, "I am getting turntables." Ry bought herself turntables for her 21st birthday. "I still have those turntables," she says.
Performing on stage for the first time is, to say the least, terrifying. Ry Toast of all people knows this. This is where her conviction works her advantage. She recounts her thinking in those early days: "I'm betting on myself. If I'm stepping up, I'm not bunting, I'm swinging for the fucking fences. 'How could I?' More like, how can't I?"
"It's less about DJing and more about life in general. You just have to believe you can do it. If you don't believe in yourself first, rest assured that nobody else will either," Ry Toast sagely told an interviewer at the start of her blooming career.
She continued to talk about fear in those early days: "I dreamed about DJing professionally, but I was too scared to try. It hit me in a yoga class; this thought that I'd never regret going after my dream, even if I failed miserably. I'd only have regret if I never tried at all. After that I knew what I had to do."
In that same interview, she was asked about what she continues to learn throughout her career. Ry Toast replies, "It's not about being perfect. You're always going to hear your mistakes and think you could have done something better. To me, DJing is about getting out of your own head and being in the moment, and making everyone within earshot do the same. It's like yoga in that you could never master it. It's like life -- you can't take it seriously, you got to just have fun with it!"
With no classical education in music, Ry was out to learn on her own. Understanding beat and measures were like learning a foreign language. It takes time just to get the hang of beat matching. "You have to slow down and be very intentional. It's a meditation," she says.
Even with the experience and success over the last decade, Ry Toast respects the humility of the eternal student. 'True badasses stay humble," she says. Of all people, Ry believes in the art of breaking one's self down in the process of rebuilding to become a stronger, better version of yourself. DJing is no exception, but it's not an unfamiliar process. "The same thing happened when I was teaching yoga. My yoga mentors assisted me when I broke myself down and built myself back up as the new person, and teacher, I was supposed to be." She continues, "I am so blessed to have mentors in the two things I am most passionate about." She is referring to bikram yoga and music.
As her career continues to grow and develop, she hasn't outgrown the desire to surprise herself. With the band Tyrone's Jacket, she still seeks new ways to collaborate with the other two members MudLux and Knowaking. In the last year, she has started taking voice lessons. With no prior training, learning to sing seemed as intimidating as those first years on stage. But in the process she found that she wasn't just learning to hit notes, but to to tune into some deeper revelations about herself. "By learning a little bit about how to sing a song, I learned a lot about how to use my voice. As in, how to communicate a more honest version of myself . . . Not to clam up, not to say what I think someone wants to hear, not to put my words through a filter or worry over what others might think, but to speak directly from my heart."
Ry Toast is a rare dose of authenticity and humility, much like the mentors she praises. And yet she claims she stands on the shoulders of giants. Such giants include her "single mother who quit school to care for [her]." These giants also include "the beloved artists who create the works that move us to the core. The singers who give life to the songs that become the soundtracks of our lives, permanently bonding us to places, times and feelings." It's doubtful that Ry Toast will forget those masters that have guided her along the way. But hopefully she too will see the Giant she herself has become, leaning those tattoo-muraled shoulders down to lift others as she climbs. I think back to young Ry, hunched over liner notes listening to Public Enemy. Years later Chuck D would tell DJ Ry Toast that you never know to whom you may be an idol: "You could be 18, but to an 8 year old, you're an OG."
Back in LA, after her national tour with Tyrone's Jacket, DJ Ry Toast talks to us about life as a musician, training with the Beat Junkies DJ School, yoga and why dreaming big means starting small.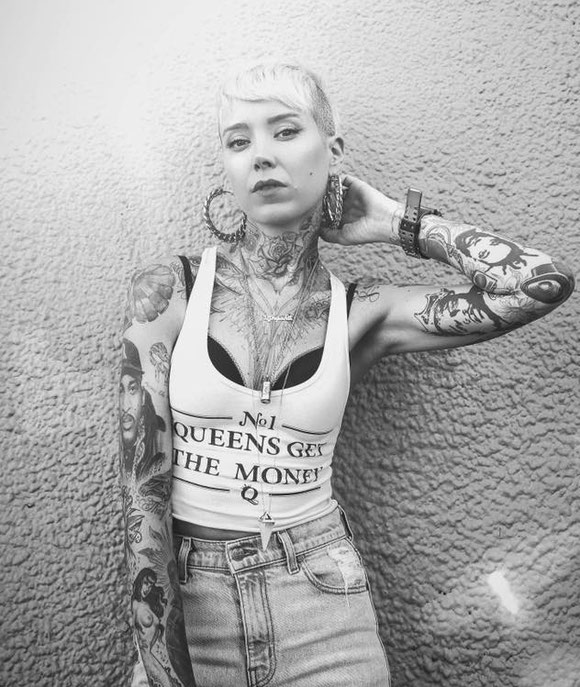 M:  Hi Ry! Tell us a bit about what you have been up to recently.
I just went and DJ-ed this biker meet-up for all-female bikers. I totally want to get a motorcycle now. Right when I got there, I was like, "These are my people."
Tell me more.
I just felt it. I have that feeling sometimes when I DJ.There was the full range of women: every age, every race, mothers and daughters, sisters, best friends. It was so powerful. It was hosted in Joshua Tree, where it's super-healing anyway. So, I did that, and it was a milestone in my life. I felt the vibe at that place. It was also right before our national tour started.
What's the national tour setup like?
Totally different. When I get on tour, I'm the only girl out of three bands, three crews, with exception of one girl who was doing sound for about three of the shows. Or she was running one part of the sound for the headlining band. So, I get there, and I'm basically the only girl. I'm realizing my role in this is really important, because this whole night, there's gonna be three to five thousand people here. They're gonna be looking at dudes except for the one time I'm up there. To me, it was kind of like, I have to hold it down for women in this situation. Then, a few shows into the tour, they asked me to start dJing the first hour of the show.
Oh, wow.
You know how doors will be at 7:00, and the opener band is on at 8:00? So, from 7:00 to 8:00, I would just be up there DJing. So, it ended up being, not only was I the only girl on stage, but I ended up being the only person who was out there. I was out there the most out of anybody, and totally alone. I was kind of like, "Okay, there's only one chick, but you're gonna have to fucking stare at her for an hour and a half."
Do you feel like women in the arts who have a public position like you do, that they have to be ambassadors in some way?
I don't know. I think it's hard to say, "Oh, you have to be a role model now." That may be a bit more than they signed up for. But you have to know that you're a leader when you are in that position. I think you need to wield that sword accordingly, whatever that means for you. At least be conscious that that's what you're creating.
But when I realized that that was a platform for me to hold down women, it made me want to step up. I know I'm a leader. I'm just not always tapped into it. That kind of made me aware, Okay, yeah, these girls are looking at you. . .They either think you're a fucking badass, or they secretly want to do what you're doing, and they maybe haven't seen it done by a girl before, you know?
A lot of the shows were all ages, too, so there were little girls there. And after the shows, we'd be at the merch table, and their moms would kind of bring them over, and they be staring at me, but they couldn't talk.
They're in awe of you probably.
Yeah, totally. And I thought, "Wow." I always would try to encourage them. "You guys can do this too. Just go for it."
When some 16-year-old girl is at one of your shows, she's in awe, she's watching, she's listening, what are the things you want her to go away thinking or feeling?
Truth and love, for sure. I think in all of our songs. It's always based on something real. Something that came from us. Whereas, I also hear music that sort of feels created to get money or something. You know, you can kind of hear that in a song. I really think that we make music from a really deep place that's real in each of us.
I think that's what connects people to us when they come to our shows, and that is a huge part of the healing - feeling like someone else probably gets what you go through. But it's also fun, and it's a ride, and we'll take you on a really dope roller coaster. You're gonna laugh, and you're gonna be scared, and you're gonna feel super held by our songs too. But that's what makes it interesting. The reality is that everything isn't love and rainbows. That there's some dark shit, there's some cool shit, there's some fun shit, there's shit that makes you think. We're trying to kind of tap into all of it, because it all deserves to be explored.
I want them to leave thinking about love. I think that's the overall message of our shows. We call it our ceremony, and we started our shows with Carl coming out and sage-ing the stage, and right away kind of set a tone for the night. Yeah. And it's evolving as we go also.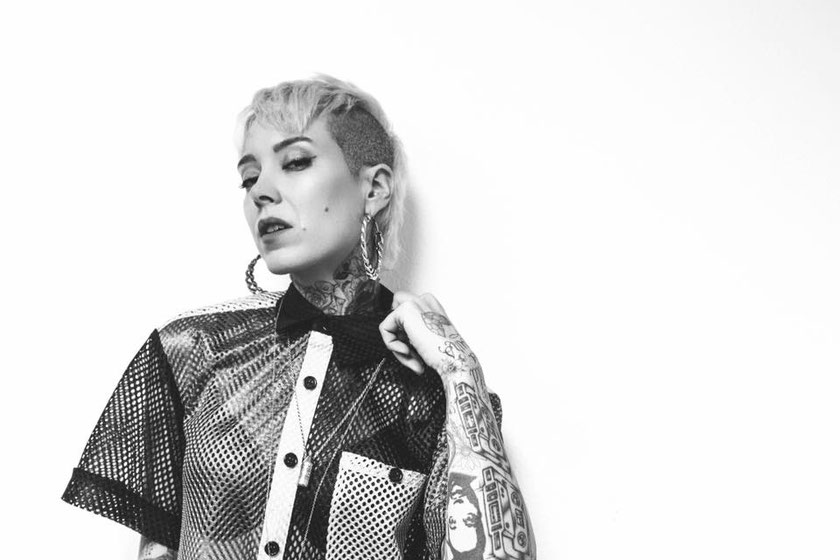 You guys get to explore and figure out what feels good for you, what connects with the audience, and what feels authentic.
Yeah, totally. We actually have a show tonight in L.A. It's at the Regent Theater, and it's a benefit show for the homeless people and it's pretty dope, because the other acts are really rad, and it's also sponsored by all these weed vendors and growers and stuff. I always love Weed industry parties because everybody's so nice and so chill. Nobody's super fucked up. It's just such a good vibe.
Tell us more about how you have been spending your time.
I've been taking classes with this amazing group of DJs called the Beat Junkies. Two of them are actually performing tonight. I've seen them so many times, but I've always watched them perform and literally been like, "I don't know what they're doing." It's so on another level."
And they're using turntables, so I'm like, "I feel like I should get this, but I don't." Now, they're unlocking these mysteries, and now I get to just watch them in action. I'm so, so stoked for that.
What are the classes and how did you get linked up with the Beat Junkies?
Dude, they are the most illest DJ crew in my opinion of all time. We'd go see them in San Francisco when I lived there, because that's when I was DJing and just more out, I'd say, in the scene. Because I was also a younger self.
So, there's seven or eight DJs standing up there. They each have a turntable and a mixer, and they are playing the turntables like they're in a band, and creating one song together, and I was just absolutely mesmerized. I remember one time I was there with my friend, and we had both just gone through a breakup . . . He's a DJ too . . . And we were drunk. We're partying, the Beat Junkies were playing, and we were all bitter. One of them got on the mic and called him up on stage, and he got to cut during the performance. It was so cool. It was so, so cool, and I was just like, "Whoa. You just got touched by the gods."
The Beat Junkies opened a school and your role models became your teachers?
Actually, I was DJing for this amazing rapper Hopie, who is also an attorney. She's a Filipino woman. She's an attorney for immigration law and domestic abuse, and she's a rapper. She's awesome. I was DJing a show for her one time, and one of the DJs were there from Beat Junkies. We crossed paths, but I was too nervous to talk to them. Then, years later, I'm living in L.A., and they open up a school. So, I equate it to if LeBron James opened up a basketball school. Well, that happened, but in the DJ world.
What was that like?
I was scared shitless, but I just went. The first time, I remember I wore my Ultimate Warrior jacket, because I feel like it helps me when I'm nervous.
My armpits were sweating, and my hands were shaking, and my palms were sweaty, and I'm talking to all of them. It was when the school first opened, so there weren't many people there. The class was me and two Beat Junkies instructors. It was me and D-Styles and Babu. It was literally two on one, the class. A couple months later, people are flying in from Japan to live in L.A. and study from them. People are driving up from San Diego three times a week to take classes from them.
So, it's really cool. The first thing I really wanted to do is scratching, because now that I'm DJing in a hip-hop band, that has become way more important to me, to understand that art, so I can really contribute to the instrumentation of our live shows. But it's so cool to be learning it now, because I totally feel so refreshed about DJing. I feel like a total beginner again.
What a great feeling.
It's awesome, but it's scary. You know how you kind of break down before you get better? I feel like I'm in that transition phase. Honestly, last night was the first time DJing that I felt like, "Okay, this is working. It's starting to work."
At first, I was banging my head against the wall, practicing a lot at home for gigs that I literally do on a weekly basis. I'm practicing, for, like, eight hours. But it finally started to make sense. I was doing all these new things I learned, so, the different scratches and how to incorporate that into sets.
This other class that I take every week is called "Creative Mixing." It teaches you all these dope different ways to break songs down and transition. I learned how to beat match and blend, and that's a great skill to have, don't get me wrong, and it's really hard, especially when you don't have a music background. But if you just do that all night, it's super boring.
Then, I've been paying so much more attention to each mix, and each song, and the different parts of it. "Oh, maybe if I could loop this where he did that with no beat, if I just loop one bar of that, that could be a really cool outro, and it'll be like, a cappella, and then bring in this song . . . " It just teaches you. I'm just thinking so much more about the music I'm playing. I'm planning out every set. I'm not just showing up like, "Eh, I'm gonna figure it out as I go." I'm thinking about how I want people to feel.
I love that you truly see it as a collaborative relationship, not just that you are delivering to an audience. You implied that you don't have a have a classical education in music. Is that true?
No, I don't. Understanding song structures and counting beats, when you don't know what notes and beats and measures and bars are, is a really weird sort of foreign language.
But it took me a long time to just get beat matching. I'm just so grateful to the Beat Junkies. They have totally just rejuvenated me as a DJ, and I feel like it's totally connected to this personal revolution that's also going on inside.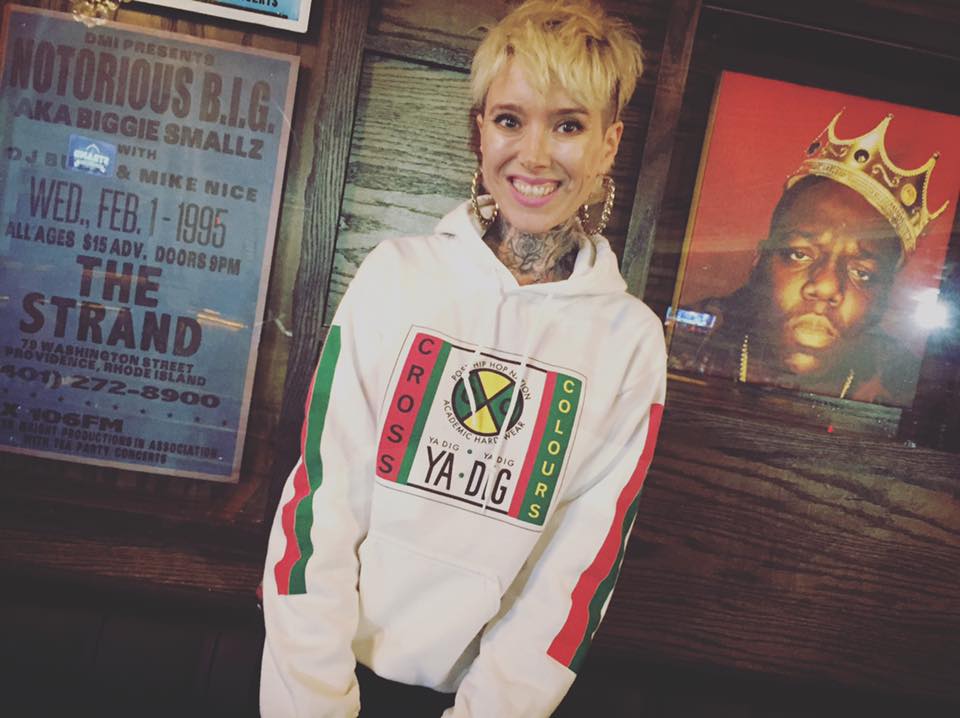 Do you have methods for how you practice new skills?
If there's something that you can't do, just slow it down.You have to do it over and over. Your brain understands how easy it is, but you've got to get your body and your brain to work together. To do that you really have to slow down, and you have to be very present and exacting with the finest little movements. It totally is a meditation to me. Then you get in a rhythm, and then you get it.  Then you can push the beat up and go a little faster. That's what they taught me: If there's something that you can't do, just slow it down.
Why does slowing it down help?
This slowness and this discipline helps you override the brain patterns that are already written. There are certain scratches where I could only do it in a certain time. But I needed to do it on beat. I needed to slow it down or speed it up, but I didn't have that kind of control over it. I could only do it one way. So, to fix that, I had to slow it all the way down and just really rewire those pathways and create  new pathways in the brain.
The more you can do that, the more you're trailblazing, and you're breaking down those beaten-down paths that your thoughts walk every day. If you do that then you're just more open, and more creative, and more accepting. There's more flow and less blockage. So, even though they are just teaching me DJing, I think that has been helping me rethink so many other things.
Where else in your life do you find it good to slow down?
This same thing happened to me when I was teaching yoga. My favorite yoga teachers opened up a studio an hour away from me. I was scared shitless, but I went there and I learned from them. They did the same thing to me. They broke me down to the point where I felt like I was a worse teacher than ever. Then they built me back up into the teacher who I am today. And at the same time, through doing that, they helped build me into the next person I was supposed to become. So, I feel like I'm just so blessed to have mentors in the two things I'm really passionate about, and totally have it be a metaphor for life.
So you're also a yoga instructor. Have you ever mixed the two?
Actually, I went to the woman who runs the Beat Junkies school and told her, I know how hard DJing is on the body, and I've been a yoga teacher for the better part of a decade. There is a series of poses that I would do when I got home from DJing or the next morning  to undo the hunched-forwardness, the tension in the shoulders, and it just hits all the areas that DJing adds stress to.
I was like, "Yo, if anyone ever has a bad back or whatever, let me know. I'd be happy to stretch them out or do a class or whatever." One day she came to me and said, "You know, I told the guys about your offer, and they all have bad backs. They would love if you would do a class with them." And I was just like, "Oh, my God. How fucking perfect is this? Now I get to give this gift to them. And it's all connected. It's just so dope. It launched me onto this whole other idea of creating a perfect mix for the yoga class. Then I could even film myself doing the sequence with an overdub of instruction, and then post it with the mix and just say, "Hey, DJs, musicians, tattoo artists, this is a great series for you to do in the morning when you're sore, and here's a mix tape download to go with it." That would be such a dope little project to do, too.
As a yoga instructor, you probably recognize the places in your line of work that are hard on your body.
Absolutely. I see how their backs curve. I got to the point with teaching where I could see someone walking down the street, and likely know what's wrong with them, just by the way they move. Or at least I know what to do to make them feel better.
When you can see what's wrong with someone's body, it's always reflected in the mind also. So, certain postures, they generally have a certain personality type.
Oh, my gosh. That's so interesting. As a yoga instructor, I bet you can just kind of analyze anatomically how that affects their psychological aspects also.
The moment you walk into the studio, I know exactly how to talk to you. I know if you want to be coddled and walked around. I know if you want to be just let go. I can tell when you're scared, and I can put you back by the door, by the window, or if you want to be front and center. I can tell if you want to be touched or talked to, or you want to be totally ignored until you get to know me. And it's all in the blink of an eye. You just take it in and give them what they need.
Also, I've been meditating.  I've been making it a point to write. I've been making it a point to just breathe.
I was in this pattern with Carl. He loves TV, and I like TV too. I like to watch certain shows. We got in this pattern where we would make dinner and eat and it would be delicious, and then we'd watch TV and get high, and just fade into the night. Just kind of pass out on the couch, and then wake up and be like, "Oh, shit. Let's move to the bed." You know?
Yeah. I've definitely done that.
Yeah. I still want to do that, but I don't want to do that every night. I think I was doing that a lot, kind of led to me feeling just anxious. I couldn't put my finger on it, but something told me to start going into the bedroom, just being quiet, and breathing or reading or writing.
And I told him, "I think I need to do this." Oh, because also, I was going through a weird depressive period, and I didn't know what was wrong. But one of the things I said to him was like, "I think at the end of the night, I might need to work more."
My work is just looking for music. Just looking for cool new artists, and that's really relaxing to me. It's something in my mind saying, "I'm awake right now, and I don't really want to use my brain to look at this TV screen. I want to do something cool with it." And I told Carl, "At the end of the night, I just might need to take some time to myself, and I need you to not take that personally."
Then I started doing that, and it really helped. That also opened me up to things like, "Oh, let me pick up this book that I tried reading twice and just couldn't understand," and I pick it up a third time, and now it's clicking on all cylinders.
Interesting. It sounds like you were really hungry for it.
Well, that was the message I was getting was, "You are getting too many inputs, and you need to just let your brain breathe." It's like when you have white noise going on all the time, and you just need some silence.
Because nothing that was happening was really bad. But I was not feeling happy, and I think it was just all this background noise that got so loud that it became a general sadness. All I needed to do was kind of sit and let it melt away, and realize, "Yo, you're handling life. Everything's okay. But you just need to start taking care of yourself on a different level." And that's it. I'm taking my time with everything, but I'm taking my time with myself. Whatever that means. If it's taking a nice hot shower before bed, and just going to bed feeling really good. Whatever it is, just listen to your body and give it what it needs.
That's such good advice. Our bodies tell us things all the time. We're just really used to ignoring it.
Then in the meantime, also I've been taking different classes. My friend invited me to go to a dance class, which I've never really considered myself a dancer or to have any kind of real rhythm. And I went to this class, and I thought it was gonna be a bunch of bouncing around, fun. It was a fucking slow and sexy choreography class, for real dancers and for real strippers. And me. And my friend. At first, I got there and I punched her in the shoulder. I was like, "What the fuck did you just sign me up with?"
But then I thought, "You know what? I'm just gonna go with this with everything I got," and I got so into it. I realized that I don't move my body in those feminine ways. I don't perceive myself as feminine, but I am. We're looking in the mirror, and I'm in a sports bra and Nike fucking leggings, but I'm like, "Yo, I am still feminine, and I am sexy, even when I wear shit like this." So, why not just fucking move like it? Because it feels good. I was moving my hips and stuff in ways that I don't, and I felt like my body liked it. It's almost like these circular undulations, super-feminine and round, and they kind of conjured up this energy that I had never tapped into.
Dancing can also be very meditative.
I think it has something to do with kundalini, because I know that's a circular energy that coils up your spine. I feel like there's a connection there.
I also started doing vocal lessons for the band, but really, it's healing this whole other thing. Every time I have to sing, I fucking bawl my eyes out. I only started going to her because I was so shy about using my voice. Even though I'm just little backup parts on the songs. I always feel like, if something is a physical thing, I can learn it. Because I'm good with my body. I can do this. And this is just your body, but it's much more fine muscles.
So, I started going to this teacher, and the whole thing has been super emotional. She's really, really fucking awesome. Her name is Sara Leib, and she's just a fucking rad human. I realized she's teaching me to use my voice, and it's not just about singing, but it's about communicating who you really are. 
How did Tyrone's Jacket get started?
The guys [MudLux and Knowaking] started doing music, and then they asked me if I would DJ. Once we started getting it going, it became obvious that the three of us had something going on. So, they were like, "We want to do this as a band with you. Three of us." I was like, "Wow, that's rad. Okay, let's do it."
What's it like as the only gal in the band?
But I think because of where it all stems, I didn't feel like I had as much ownership in the group. That has this energetic effect on me where I would kind of let the guys take the lead in situations, and I would just kind of be quiet. Whether we're backstage with another band, or renting a studio, I just would shut down. I wasn't really enjoying myself doing the shows or doing the rehearsals or at the studio, I thought, "What's wrong with me? I just feel really uncomfortable." And I couldn't really connect it.
Then I started going to this voice teacher before we went on tour, and she definitely helps me with singing, but I feel we're almost not there yet, because I'm still kind of breaking through this communication barrier. But when we went out on tour, my personality- I just felt like I was just shining. On stage, but also backstage. Just holding the space of a woman who's beautiful, but doesn't need you to look at her like that. And she's also super funny. I was just in one of those modes where all my jokes were hitting, and my banter was spot on. And I felt like me bringing my personality to the table made the whole tour for our band, for the other bands, it made it more awesome. I saw what my spices added to the recipe.
I think that a lot of that was from my voice coach just teaching me to use my voice. So, now that I saw that, I think, "Okay, I'm never going back to not doing that. So, whatever I need to do to get myself in the head space to be that person, I need to do that every day. Because that's my job now. It's to be this excellent person. . ." Not "excellent" like perfect, but just like a full-on me in every situation. I need to come correct, because now people are listening and people are watching, it's pretty much go time.
And now I'm just enjoying everything so much more. I'm excited we have a show tonight. I'm excited we're getting in the studio tomorrow. Because now I'm bringing my full shit to the table, and it doesn't feel awkward and uncomfortable anymore.
That's awesome.
Yeah. I'm really looking forward to whatever blossoms out of that, because I know I'm just kind of getting started, really, using my femininity and my voice. Once I start really tapping into that shit, I don't know what's gonna happen. World domination maybe.
How did you guys come up with the name Tyrone's Jacket?
We just were trying to think of something cool and weird, and we came up with that. It was one of the first things we thought of, but we were like, "That's so weird. Let's keep thinking." Then months went by, and we needed a name, so we were like, that one was still kind of hanging around and we went with it. Since then, it's taken on its own kind of life, which is cool. It's cool. It's like, a metaphor for a lot of shit. Like I said, I put on my Ultimate Warrior jacket when I went to the Beat Junkies' school. It's "Jacket power!"
I actually read a study once that concluded when people are trying to come up with names, something like 85% go back to their original suggestion. They'll put it aside and they almost always come back to their first inclination, which is interesting.
Your gut instinct will never lead you wrong. But you have to quiet down to hear it, and that's the hard part.
You've had a love of hip-hop for a long time, since you were a kid. I heard that it was your mom that would get you CDs and records. From there, how did you decide DJing was what you wanted to do? And how did you take the first step in doing it?
Well, I was in college, and there was a really awesome venue in Burlington, Vermont called "Higher Ground." It was a stop in between Boston and Montreal that a lot of artists would make, even though it was a really small club. So, I got to see amazing acts come through there. Wu-Tang Clan, I remember. All of them on one stage, which was a game-changer. I would always buy the records, because I just loved them, but I didn't have turntables or anything. I just really liked the vinyl. I loved holding it. I loved everything about it.
I loved hip-hop in high school, but in college, I got to start going to shows. It just got that much more real, and I didn't feel like I could be on the sidelines of it anymore.
But then, I was like, "Wait. That's stupid. If you want to do hip-hop, there's five things you could do: You could rap, you could break dance, you could produce, you could write graffiti, or you could DJ. Pick one."
I felt like I had the best shot at DJing. And producing is something that I'm totally getting involved with, but DJing is a first natural step in that anyway. So, I was like, "Fuck it. I'm getting turntables." And I did. That's when it all started, in college. I bought myself turntables for my 21st birthday, and I still have those. I'm actually staring at them right now.
When did you get your first gig?
I got my first gig probably a month or two after I got turntables, because the girl who I lived with, Rayna, she was a rapper at the time. Now she became an awesome producer. She lives in L.A. too. But we were roommates back then, and I would DJ and she would rap. I think it was a show for her, or maybe a venue she worked at. But anyway, she got me on the bill, and I was so bad. Ugh. I was so bad for so long. I feel like that again all over now, that I'm in classes and stuff. But you've got to be bad in the beginning, because that's the only way you get motivated to get good.
You have to start somewhere.
Yeah. But I'm definitely eating a slice of that in my classes, like, "Okay, Ryan. No one ever taught you this shit. Don't be so hard on yourself. Just do it." And there's, like, an eight-year-old next to me who's doing it perfect. It's very humbling.
The really cool people stay humble even when they are at the top of their game. That is how all the Beat Junkies are. They are the absolute, top-of-the-game masters of what they do, and also the pioneers of it, and they still are trailblazing it by having this school and passing down these amazing . . . These tools that would die with them, if they didn't teach them.
Very few people do turntables anymore. Everything's digital, and CDJs or computers or controllers, so this really is a dying art. But each one of them is so humble. They teach classes, two or three of them together, and they always are giving each other props and introducing, like, "Okay, next up we have Melo-D, world champion, blah blah ..." Like, they just big up each other all the time, every time they can.
I swear, the more people I meet who are masters at what they do, the more humble they are. That's something I never want to forget. Because I know I'm gonna be great at what I'm learning right now. But I want to always stay a student of it, and always be inspired by those around me. That's not a school you go to to get a certification and go get a DJing job. It's not a vocational school. It's a dojo that you don't want to graduate. You want to keep going.
That's why I just think they get it. They know how to be people. Really, really dope people. So many people could be selfish about their skills and not want to share their secrets, and just stay the best and have no one understand it. They are the opposite. They want to pass down the tools, and they see it as their duty. It's so cool.