With the sun just rising at 6:30 am on Wednesday morning, Hetty's bare feet sludge across the wet grass. The quiet hillside disguises itself as a marshland leading up to the slowly moving river. Last night's dusting of snow has melted. The ground has turned soft while the air hangs in a state of dampness, stuck somewhere between freezing and thawing. Hetty takes a deep breath, exhales vapor, gingerly steps to the river. Her mind desperately tries to ignore the tenderness of the body that is exacerbated by the morning's unwelcome advance. Nevertheless, against every physical instinct, Hetty advances to the river bank and with a few forced steps, reluctantly slides in. For Hetty, cold water swimming has become a ritual.
Hetty is an adventurous person by nature. She lives near Lives near the Peak District in the UK. The Peak District is an upland area in England at the southern end of the Pennines. Her hobbies and travels give way to mountain biking in Slovenia, trail running in Scotland's rugged terrain, rock climbing, backpacking- you name it. But she also understands that, like most people, she has responsibilities that keep her from a life of constant adventure. Hetty has spent the past few years working in Derbyshire, UK as the Public Relations Coordinator for Equip Outdoor Technologies UK Ltd, a company that owns RAB and Lowe Alpine brands. Just recently, she has opted to pursue research full time. She has traditionally had a job with traditional hours, bills to pay, commitments at home. And, quite frankly, there's not always time and energy for  the big adventures. "No one can run at 100% capacity all the time," she says. "And that's okay." Instead, Hetty reminds us, "you've got to work with what you've got." What's unique about Hetty is her refusal to let her responsibilities and time commitments interfere with her adventurous spirit. Rather than make excuses, Hetty finds ways to bring adventure into her daily life: She calls them Micro-adventures. "If adventure was like food – micro-adventures aren't the full three-course meal, they're a tasty snack which fills you up enough to keep going. In a similar way, they don't stop me pushing for bigger and harder challenges but do scratch that permanent itch of never wanting to waste a day," she writes. Micro-adventures are the out of the ordinary activities that feed your adventurous spirit on a monthly, weekly or daily schedule. After all, spirits can dampen in the months or weeks or even years between big trips and travel plans. Micro-adventures bring adventure into your life instead of leaving your life behind to chase it. "I've come to realize that there's plenty of adventures to be had right on my doorstep," she says. Hetty reminds us, "Just because you haven't spent hours planning or traveling it doesn't mean you can't do something original or exciting . . . You have to make time and steal moments as and when you can – whether that's a midweek evening or early morning, work with what you've got and commit to getting out there." It is from this very concept that Hetty came to be a Wednesday morning cold water swimmer. She calls it her liquid meditation.  
In her blog Mud, Chalk, & Gears, Hetty writes:
Look at how much time and energy you have to give around what you have on and adapt accordingly. Over the past few months I've discovered I love wild swimming – especially in cold water! As an average/mediocre swimmer (read flailing baby hippo) this isn't about the distance or fitness, it's purely about having the lady-balls to get in and swimming a few stokes. In fact, I'm not sure I'd even call it swimming… it's more plunging! I'm in the water a matter of minutes not hours, but that doesn't matter, the sense of achievement from even this is immense, not to mention the adrenaline rush! This isn't to say I'm ditching my trainers, bike or climbing shoes – it's just a great way of fitting in adventure when my energy has been a little lower.
Beginning what Hetty affectionately refers to as the "sunrise swim club," she has gathered friends to join her on her weekly plunge. In the bitter winter months, her company often dwindles to herself and one other person. But that doesn't change her resolve.
"Despite the apprehension, this is often the highlight of my week. I find the challenge and nature of the cold water has an energizing yet calming effect on me. It's a simple and rewarding task: Just get in." And afterward, Hetty arrives at work "buzzing." She writes, "Sat at my desk I look now different to any other day, but underneath my socks my feet are still muddy from the river and inside I feel very much alive!"
She has a few suggestions for those interested in the tradition. "A good bobble hat makes everything better," she writes. In jest, she follows up writing, "Alongside this, it turns out swearing too- a few choice profanities have been known to raise the water temperature at least a degree!"
Once in the water, Hetty relaxes and she starts to pay a little more attention to her surroundings. "It's beautiful here," she tells us, "from pastel sunrises to the deer cautiously watching us from the other side of the bank, there is always something that catches my eye." Her micro-adventure brings her to a state of peaceful reflection and awe. After all, isn't that where we hope our big adventures ultimately take us at its end?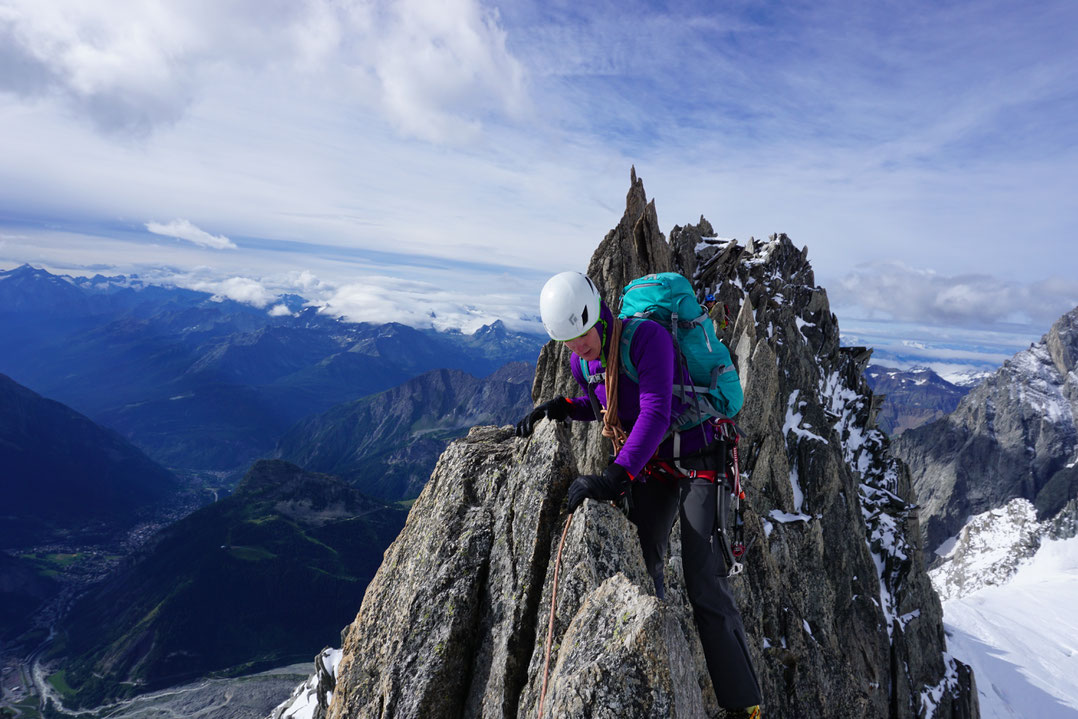 Micro-adventures notwithstanding, Hetty Key is also a woman of big adventure. Her blog humbly shares her stories for others to read. Hetty completed the Ring of Steall trail run race, a 29 km skyrace set within the Mamores, an east-west series of majestic Scottish Mountains, the Munros, over 3,000 feet. The race's website describes it as "uncompromising mountain running, such as scrambling along mountain ridges with steep ascents, traverses and descents and challenging terrain."
In February of 2018, Hetty enjoyed a winter rock climbing trip in Curved Ridge in Scotland and a North Sea surf trip in November of 2017. "I was my own hero when I finished something I didn't even know I could start," she shared on twitter. In September, she ran the Salomon Glen Coe Skyline, an extreme race fusing alpinism and mountain running across a 52 km course. This race route features "long and sustained sections of scrambling terrain, which is roughly equivalent to moderate standard rock climbing" and "traverses high and remote mountainous terrain, which at times impossible to retreat from and may be subject to severe and rapidly changing weather."
In early 2018, Hetty partnered up with her boyfriend taking two weeks off work for her first bikepacking trip: a multi-day mountain bike trip where you carry everything you need to sustain you for the entirety of your excursion. This trip was a 14 day trip mountain biking on her rusty hardtail, a Trek Superfly 5, across 400 miles of gravel backroads adn singletrack trail in Slovenia. This trip linked quaint villages, lush green forests, crystal blue swimming holes backdropped by snowy peaks. "There are lots of ways of doing it and no hard and fast rules," Hetty says. "In some ways, you can't get it wrong." Hetty did all of the planning, preparation and navigation for the trip. The biking consisted of "mainly offroad on gravel tracks, logging paths and singletrack, all of which were very definitely hilly! With at least 3,000ft of ascent a day, our biggest day had 11,000 ft of climbing - that felt hard!" Hetty outlines her packing list and a depiction of how she planned this trip on her blog.
Despite Hetty's intrepid inclination toward outdoor adventure, one of her most brave feats has been addressing topics rarely discussed in the often glamorized outdoor culture: depression, malaise and ennui.
In a open letter to the outdoor community, Hetty pens a spectacularly bold entry called simply, "It's Okay (not to be okay)." After a short introduction to the concept, she writes the following terse and powerful set of statements:
Not every adventure you go on has to be amazing.
You don't have to better yourself in every event or race.
Some days you can head outside with the best intentions but just not feel up to it.
You can have off days, off weeks, off seasons even…
It's normal.
While seemingly simple, this concept is often averted among adventure communities because it is painful. When you are not coming off of a big adventure, preparing for a trip, or training for something that inspires you, the world seems to conspire against you in disapproval. The truth, however, is that the wellspring of such disapproval is one's self. Nevertheless, it will seem that in obvious contrast to yourself, those around you are ceasing to let up, tirelessly basking in the glory of after-triumph, effortlessly collecting the silent standing-applause of social media's affirmations. The conclusion of aforementioned observations amount to one simple conclusion: you are not are doing enough. Hetty steps out to tell us, this is simply not true. "No one can run at full capacity 100% of the time," she reminds us.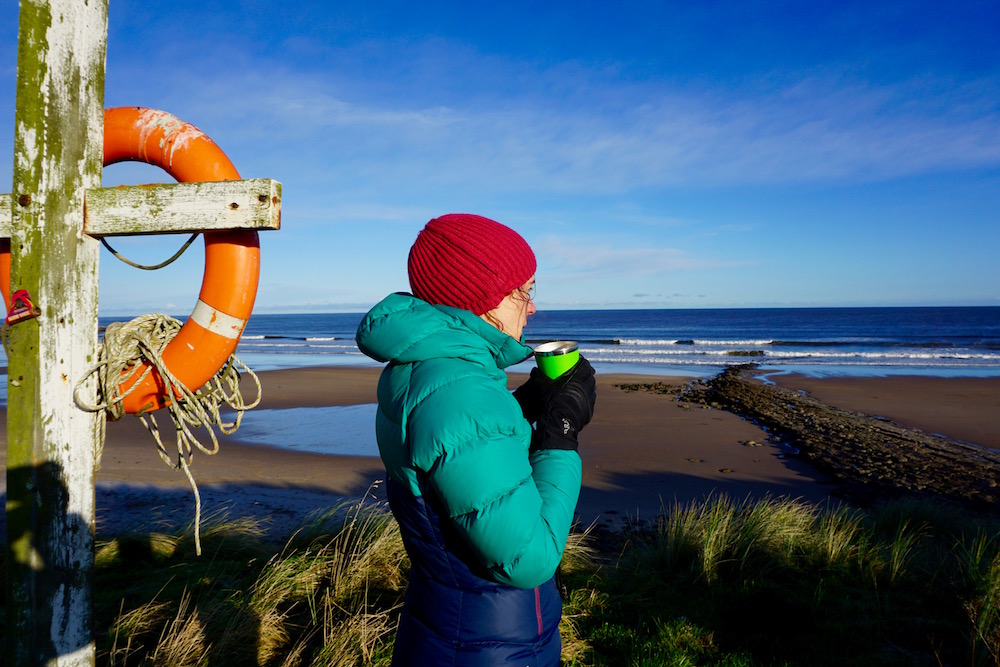 Hetty's writing dispels the glittering notion that all adventures have to be soul changing and instagram-worthy: That you don't always go outside to return happier, more inspired and better looking as carefully curated social media posts may lead us to believe.
Hetty writes:
"For me, I've been fine and fully functional the majority of the time, I've just found I've struggled to gain the momentum to do the more active, high energy things I love, such as a post-work run or big weekend away in the hills. At first, I was frustrated with myself, blaming it on my attitude and lack of resilience. However, I've taken a step back and realized when I feel like this, adventures have to be scaled back a little to fit around commitments and my focus needs to turn to trying to recuperate some energy … And that's okay."
She reminds us that there is no magic wand or instant fix that can remedy this. "Sometimes our mojo disappears for a bit, with or without reason." She continues, "It will come back but you have to be patient, no amount of beating yourself up will help matters. It can feel hard when you're focused on a specific goal or target but ask yourself how much that really matters."
When in this particular situation, Hetty has a list of suggestions that has worked to ease the self-imposed discomfort. She suggests things like journaling, re-adjusting expectations or cutting down on filtered life.
"Normally I love social media. It gives me a platform to share my adventures, meet other like-minded people and find out about amazing opportunities. But equally, on grey days it can have a negative impact on how I feel. Some days I find myself scrolling through my feed either wishing I could go on adventures as big or an exciting as the ones shining back at me, or end up using each picture as a measuring stick to my own recent activities." Your adventure despondency will fade eventually, Hetty promises, "but you have to be patient and no amount of beating yourself up will help matters."
Most profound of Hetty's helpful tips is in fact, the simplest one: Work with what you've got. If finances, work schedules, energy or motivation are curbing your life vitality, take a step back to see the small ways you can include vitality and adventure in your life. This is why Hetty has introduced the concept of micro-adventures into hers. It is the very reason she started practices like the weekly polar swim club.  
"Spending time outside in nature is incredible. The one thing I come back to is that there is rarely a time I feel worse for spending some time in the great outdoors, even if it's just five minutes."
In addition to the time she spends adventuring, she has also launched a research and analytics project exploring women's access to the outdoor resources. Women In Adventure is an independent research-based project focused on empowering women through the sharing of information, inspiration and advice. The group analyzes data from surveys to find more quantifiable data on women in the outdoors. Responses to the 2016 survey included 400 participants from a total of 24 countries. The 2016 Survey looked at what drives and inspires women in adventure, alongside identifying any barriers or issues that make it more difficult for women to participate. The 2017 Survey focused on mental wellbeing.
Hetty is also the co-founder of the Peak District's Women's Trad Festival. This annual festival aims at helping beginner mountain climbers transition from indoor to outdoor climbing and bolster the climbing community. The weekend event in 2017 hosted nearly 200 women with tickets selling out in 180 seconds.  
In an effort to learn more about Hetty's projects, adventures and wisdom, we reached out to learn more. Hetty took the time to speak with Mythogynist about personal discipline, her adventures, big and small, and the life lessons that she holds dear.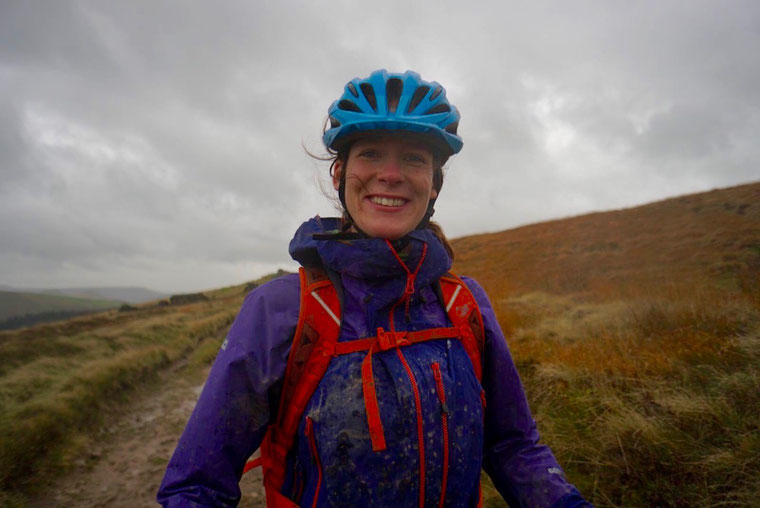 Is there a particular discipline or habit in your life that you hold dear or that helps you to be your best self?
As a perfectionist who is terrible at saying no, I think I'm always trying to figure out how to be my 'best self' and am definitely not there yet. There have been many iterations, versions and failed attempts! However that being said, I've picked up a few things along the way that help keep me on track, especially when life gets busy or stressful.
The main habit I'm trying to instill into life is listening to yourself. I think we can all think of situations we have offered excellent advice to others but not taken it ourselves. Spending time to at least identify how you are feeling and the reasons you might feel like that is invaluable. It doesn't mean you have to do anything - acting upon it is another thing - but at least acknowledge it.
After this, and perhaps a little more tangible, is writing stuff down. I'm a sucker for a good notebook, it really helps me contain and condense my thoughts. Whatever format your brain works with - lists, doodles, mind maps (mine varies), I'm a firm believer in trying to put the contents of my head down on paper. It just makes everything feel more manageable.
This summer you completed a stunningly beautiful- and challenging- bikepacking trip in Slovenia. Can you briefly depict a particularly high spirits moment on this trip?
Slovenia was incredible - I fell in love with the country and will definitely be going back. I can't recommend it enough. My favourite moment had to be on the third day riding through the Triglav National Park. We'd been cycling up this rutted and remote forest track for hours. To start it was a rideable gradient, but it just got steeper and steeper. Soon I was pushing my bike, which, when loaded up with all my stuff, felt about as useful as a shopping trolly with no wheels! It was also intermittently raining - not a light drizzle that cools you down on hot climbs, short but torrential downpours.
As the forest track opened up to steep alpine meadows and rocky trails there seemed to be no obvious sign of the uphill struggle lessening. However, just at the point I was about to lose my cool with everything and have a proper 'hill rant' we reached the ridgeline. At the same moment, the cloud cleared, and the sun came out to reveal a stunning 360° view of the mountain range. The next hour was incredible - fueled on adrenaline and the last few Haribo, we tentatively traversed the ridge before dropping back into the woods to find water and set up camp.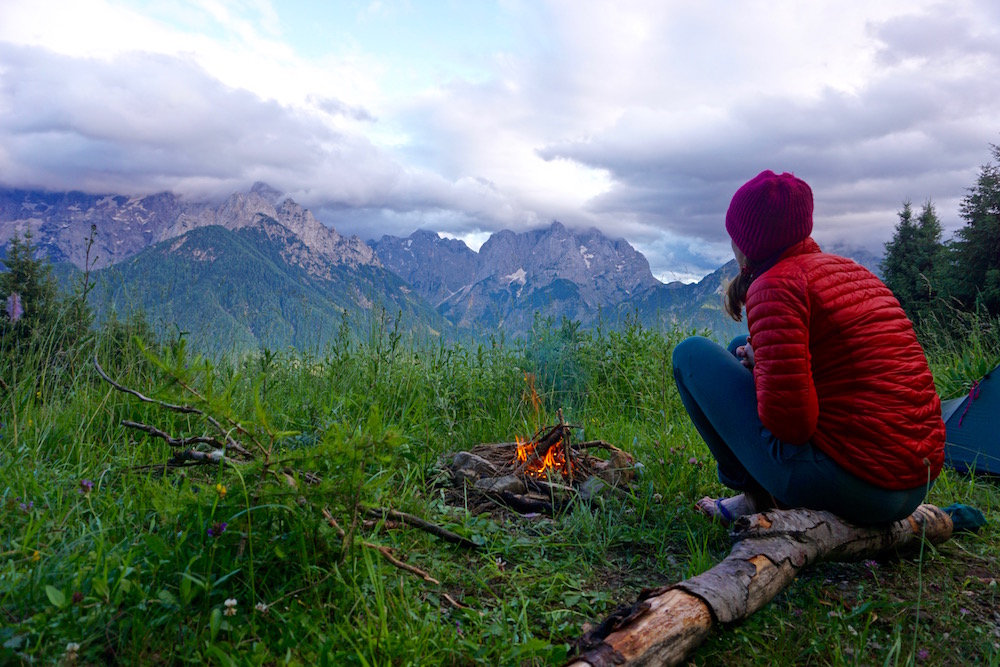 Are the Women in Adventure 2017 survey results finalized on establishing direct correlations between mental well being and the outdoors? What is one unexpected observation or trend you have noticed in this survey study so far?
The results of the 2017 survey are being finalised at the moment with the aim of releasing them in January 2019 - you will be able to find them on the Women in Adventure website. It's taken a while to get to this point as I was blown away with the number of responses the survey got and I felt really strongly I wanted to do this justice.
As for what surprised me, I don't want to dive into the results before they are out, you'll have to wait! But what I hadn't expected was to have so many amazing women choosing to share their stories and personal accounts. I've read each and every one - it was truly humbling.
You also worked for Rab: I'm assuming it's good business to test out your own company gear on adventure missions. How does it differ from other gear companies and what is your favourite piece?
Absolutely! I'm a self-confessed gear-geek so having the chance to wear or test our products was one of my favourite aspects of the job. I also loved working alongside the Design and Garment Technology Team as I got to pester them with all my gear questions and thoughts - they were very patient!
When it comes to what makes Rab unique, I think it's the people - despite being a rapidly growing international company, there is a real sense of community. Everyone is passionate about what they do, and I think that shows in the product. Right down to the angle of a zip or position of a puller, it's the little things that make a big difference. We describe our clothing and equipment as 'honest and hardworking' - I think this sums us up well.
Choosing a favourite piece is hard as I'm always fascinated by the new and exciting! However, if I had to it would probably be my trusty Microlight Alpine Jacket. It was the first 'proper outdoors jacket' I ever brought so I've had it for years (pre-Rab). I know I could easily upgrade as it's looking a little tired, but it's still fully functional and has too many memories to part with.
What is something you learned in your childhood that has stuck with you?
Growing up I was very lucky, I was brought up to believe if you wanted to do something and set your mind to it, it could be achieved. As an adult, I realise this is not maybe true all the time; however it instilled a good ethos in me of not giving up when the going gets tough.
When I was a teenager, my mother was diagnosed with a brain tumour and my father with Parkinson's. It was life-changing for all of us - amongst other things I was suddenly faced with the harsh reality my parents were not invincible. But the way they faced the various challenges illnesses threw in our path was inspirational. It made me realise you have to seize the moment and strive for what you believe in. It might be hard, but you're tougher than you think.
Reflecting back on that now, if you look at most things I've attempted in the past few years, I don't think success has come down to talent or natural ability, it's endurance and perseverance - obviously combined with an element of luck and good timing.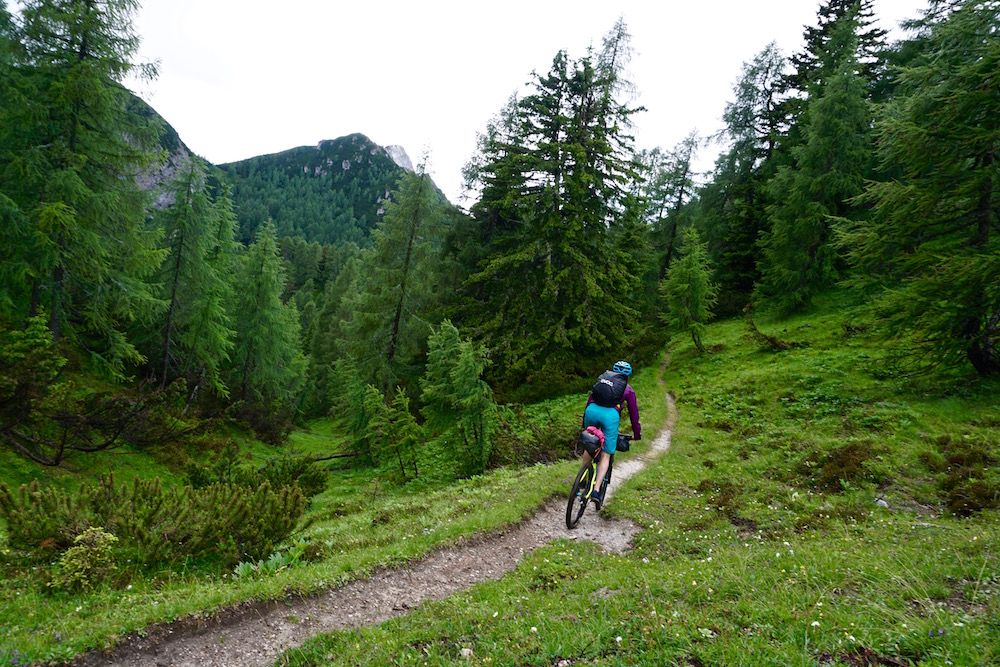 You do a great job of discussing adventure malaise in your blog titled "It's Okay (not to be okay)." Often times, we find ourselves resistant or unmotivated to seek new adventure. There are times when we need to check in with ourselves and listen to our intuition. But there are also times when our minds play tricks on us- telling us we shouldn't do something when we are simply uncomfortable or afraid. Often, these can feel the same. How do you know the difference between times when you're simply not up for the task or times when you are afraid and should push forward?
It's important to recognize that it's not as black and white as 'stop' or 'go'. When you're in a situation like the one you describe, it can feel like you only have two options; however, there are so many more. My advice would be before you do anything, pause and assess. Yes, you could go forward, or bail, but is there another option? Is there a step you can take to make going forward easier? Do you need to upskill and come back? Is there a 'sideways' option?
Social media can make it feel like everyone is successful on their first attempt. It doesn't show the tears, training and experience behind big (and little adventures) so try not to give yourself a hard time, however you feel. I think deep down you'll know what the right thing to do is, so trust your instinct.
What is one unlikely or luxury item you try to pack with you on any travels outdoors?
This is an easy question! My luxury item is always my Kindle - it comes with me on every adventure. I like to read books linked to what I am doing at the time as it really inspires me when the going gets tough. Then my unlikely item would be an appropriately oversized block of cheese… I love cheese!
If you had to make your polar plunge sunrise swim club a metaphor for your life in some way, how would you link the two? What have you learned from your recent discipline in morning cold water swimming?
My morning swims (dips!) are like pressing the reset button in my mind. No matter how much I have going on, I find they level and calm me in a way I can't quite describe.
Cold water swimming has taught me that there is always time for adventure. I took it up during a difficult period in my life when I had a lot going on and was very pressed for time. At the time, I felt like I didn't have the energy to run, bike or climb, but badly needed the headspace it gave me. The cold water made it simple. I just had to get in - that was it - I couldn't over complicate it. As a very driven person who sets goals in every area of my life, I find it's extremely valuable to have a hobby without a point or purpose.
If you could go back in time and give advice to your twenty-year-old self, what would you tell her?
I'm a little torn on this (as it sounds cheesy) but I feel that all the mistakes and choices I've made have built who I am now. That being said, I would tell my younger-self to place less weight on the opinion of others. I spent too much time worrying about what everyone would think of me and if I 'fit in'. I think I'm potentially still guilty of this, but I try to make sure it doesn't stop me from doing anything or giving things a go.
You are a very accomplished athlete: What have you done most recently where you have surprised yourself?
I'm not sure I would say I'm accomplished, more a jack of all trades master of none!
Recently I've been trying to see how much fun I can have from my own doorstep around a very busy work schedule. The other night I jumped off the train a stop early and cycled the remaining 20 miles off-road across the Peak District in the dark. I was about half an hour in, pedalling through dense woodland totally alone when I remembered I'm scared of the dark! I was so surprised I'd not noticed this until then. After a brief panic I concluded I'd been calm up until that point so could maybe just continue that!
If you had to name one thing in your life that holds you back from embodying the most optimal version of yourself, what would it be and how do you battle it?
This is a hard question and one that I've spent a lot of time thinking about. On some level, there are many things that I could let hold me back - comparison, fear, time, saying yes to everything! However, if I had to focus on one, it would be confidence. As I progress and do more, it's easy to feel like an impostor or fraud in both my adventure and work.
I'm still learning how to battle this, and it's very much work in progress. Step one is trying to listen more - it's easy to hone in on the negative however paying attention to everything that is said gives a far more accurate assessment of where you're at. Then step two is backing yourself and take a logical approach when working out what you are capable of. Identify and act on your weaknesses but also remember to celebrate and champion your strengths. As for the rest … I'll have to let you know when I've worked it out!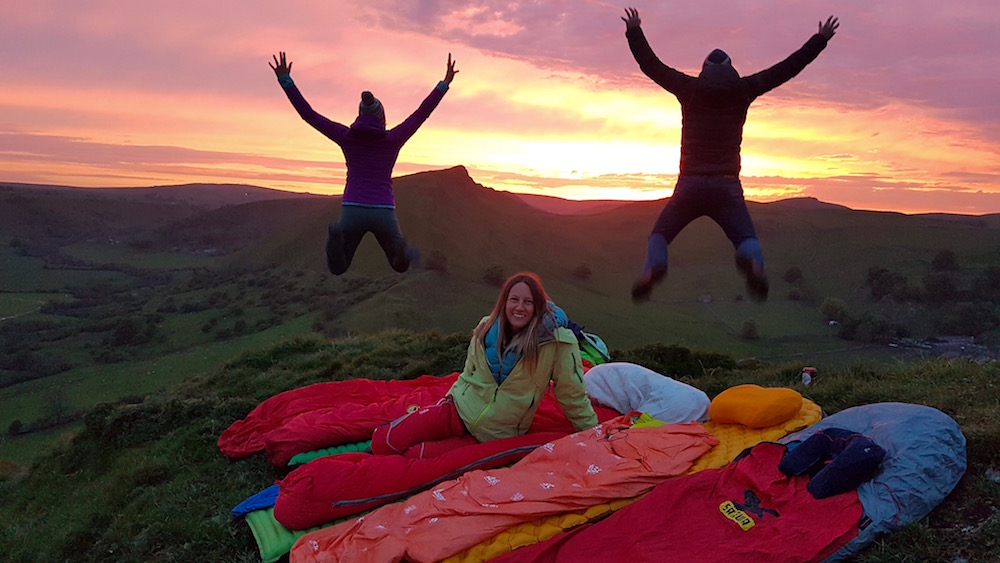 ---
---